For other versions, see Laser Bean (disambiguation).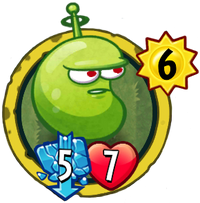 Laser Bean is a premium super-rare plant card in Plants vs. Zombies Heroes and a member of the 

Solar class. It costs 6

to play and has 5

/7

. It has the

Strikethrough trait and does not have any abilities.
Origins
It is based on the plant in Plants vs. Zombies 2 with the same name and appearance.
its

Strikethrough ability is a reference do how, in Plants vs. Zombies 2, Laser Bean's laser can pass through multiple targets.
Statistics
Class: Solar
Tribe: Bean Plant
Trait: Strikethrough
Abilities: None
Set - Rarity: Premium - Super-Rare
Card description
"Physics, baby! I'm emittin' all KINDS of coherent radiation!"
Update history
Update 1.2.11
Set - Rarity change: Basic - Uncommon → Premium - Rare
Update 1.4.14
Design change: The color of the laser it fires has been changed from red to blue.
Update 1.16.10
Rarity change: Rare → Super-Rare
Update 1.30.4
▲

Strength change: 4 → 5

▲

Health change: 6 → 7
Strategies
With
Laser Bean is a 6-sun 5

/7

plant, which isn't very astounding. But thanks to its

Strikethrough trait, you can at least use it a finisher or late-game card, where it can alarm your opponent to react to a plant that is consistently doing 5 damage every turn.
But Laser Bean should be played when you have established field control, as a single 5

/7

plant on turn 6 isn't a very good idea, even if it has

Strikethrough, an undoubtedly powerful trait. Thus, Laser Bean doesn't make a very good finisher, which is able to carry you to victory by itself. It also lacks any kind of tribe synergy in its class, let alone any kind of synergy in it, which is another of its downsides. Laser Bean isn't the worst, but from a competitive standpoint, it isn't that much of a good pick either.
Against
Laser Bean can be harmful if you leave it alone for too long; it may have average stats, but you have to stay aware that it can still constantly do 5 damage to you every turn. But otherwise, it shouldn't be a huge worry to see on turn 6.
If it seems to be getting in the way, you can easily remove it. Although its health may be an issue to you since 7 health on turn 6 is still a lot, instant-kills can negate it.
Gallery
Plants vs. Zombies Wiki
has a
gallery
for Laser Bean (PvZH).
Trivia
It and Astrocado are tied for the highest base strength among all Strikethrough plants.