Raise a Floppa - The Loop
Play Sound

For the level after the v1.8 update, see Kongfu World - Day 15.
Kongfu World - Day 15 was the 15th level of Kongfu World in the Chinese version of Plants vs. Zombies 2. It was a Last Stand level with two Taiji Tiles and seven Weapon Stands at the start of the level. After completing this level, the player received a money bag.
Waves
The small number next to the zombie icon means that zombie will always appear in that lane, with 1 being the topmost lane and 5 being the bottommost one.
| Waves | Non-dynamic zombies | Ambush zombies | Grid Items | Note(s) |
| --- | --- | --- | --- | --- |
| 1 | 2 3 4 1 1 2 4 5 5 | None | None | |
| 2 | 2 4 1 3 3 5 1 2 4 | None | None | |
| 3 | 2 3 1 2 3 4 1 4 | None | None | A black hole appears and drags all plants forward by one column. |
| 4 | 3 3 1 2 4 5 | None | C9R5 C9R1 C9R3 | |
| 5 | 1 2 3 4 5 1 2 3 4 5 | None | None | |
| 6 | 4 1 1 2 3 4 5 5 1 | None | C9R1 C9R5 | A black hole appears and drags all plants forward by one column. |
| 7 | 1 2 3 4 5 1 3 5 2 4 5 | None | None | |
| 8 | 3 1 2 4 5 1 2 3 4 5 | None | C9R1 C9R3 | |
| 9 | 2 3 5 1 2 4 5 1 3 5 | None | None | A black hole appears and drags all plants forward by two columns. |
| 10 | 2 4 1 5 1 2 | None | None | Final wave. |
Walkthrough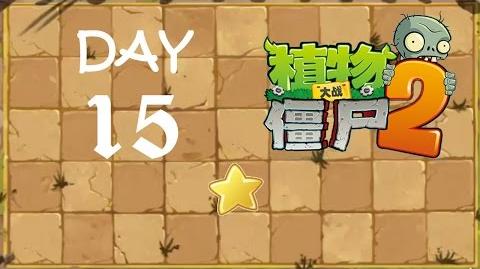 * A gate can be unlocked with a key after completing this level
^ Conjectural name