Raise a Floppa - The Loop
Play Sound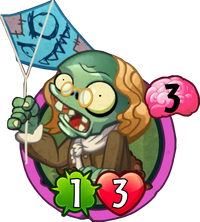 Kite Flyer is a premium rare zombie card in Plants vs. Zombies Heroes and a member of the

Brainy class. He costs 3

to play and has 1

/3

. He has the Gravestone trait, and his ability draws a card every time he does damage.
Origins
He is based on Benjamin Franklin, a Founding Father of America, and his kite experiment, hence his history and science tribes.
His name is a combination of the words "kite," the object he is holding, and "flyer," referring to his appearance.
His description mentions naysayers, which are people who express negative or pessimistic views.
Statistics
Class: Brainy
Tribes: History Science Zombie
Trait: Gravestone
Ability: When this does damage, draw a card.
Set - Rarity: Premium - Rare
Card description
The naysayers were right. Flying a kite in a lightning storm WAS a real bright idea.
Update history
Update 1.4.14
Description change: Was originally Any resemblance to persons living or dead is purely coincidental.
Update ????
Tribe order change: Science History → History Science
Strategies
With
For a 3

zombie, Kite Flyer is not that powerful statwise. However, his true value comes from his ability, which allows him to draw a card every time he hurts something, whether it be a plant or the plant hero. Not only that, Kite Flyer is able to constantly draw cards until he is destroyed, so you do not have to worry about running out of them with him around. This makes Kite Flyer compatible in almost any deck, especially Dino-Roar decks.
Since Kite Flyer's ability activates every time he hurts a target, you should aim for him attacking as many times and hurting as many plants (or your opponent) as possible before he goes down. Letting him do bonus attacks with Lurch for Lunch, Electrician, or Gadget Scientist increases the number of attacks he does, while giving him

Frenzy or

Strikethrough lets him hurt more plants per attack. However, improving his overall survivability is important too, perhaps even more so than the former. Rustbolt and Immorticia would do the best job on that part since both have health-boosting cards and strength-degrading cards: Rustbolt is better in terms of boosting his survivability due to his health-boosting cards and strength-degrading cards being cheaper and more cost-effective, while Immorticia makes Kite Flyer hit hard as well. Super Brainz and Huge-Gigantacus can use Headstone Carver to give him a slight stat boost, move him onto a safe lane with Smoke Bomb, or

Freeze plants to let Kite Flyer safely attack them once, but they don't contribute as much as Rustbolt or Immorticia does defensively.
Kite Flyer can also benefit from science synergy with Gadget Scientist, which lets him do a bonus attack and draw an extra card, and Zombot Drone Engineer, which makes him hit harder every time he does damage. And while it does not benefit Kite Flyer himself, he can activate Interdimensional Zombie's ability, though there are better and cheaper science cards for the job.
But just like any Gravestone zombie, you should watch out for Grave Buster.

Armored plants also stop Kite Flyer cold if you don't have strength-boosting cards. Since both of them are exclusive to the

Guardian class, you should be especially wary against Guardian heroes.
Against
Kite Flyer's ability allows your opponent to play more cards and stick to their strategies more easily by continuously supplying cards, making him a threat. But fortunately, he doesn't hit hard or have much health, and given how many cheap options there are that can take down an unboosted Kite Flyer (Berry Blast, Bonk Choy, Grave Buster, etc.), he shouldn't be that hard to counter.
Gallery
Old
In other languages
| Language | Name | Description |
| --- | --- | --- |
| English | Kite Flyer | |
| Simplified Chinese | 腐烂克林尸 | |
| Traditional Chinese | 腐爛克林 | |
| French | Cerf-volant | |
| German | Drachenflieger | |
| Italian | Pilota di aquiloni | |
| Japanese | カイトフライヤー | |
| Korean | 연 조종사 | |
| Brazilian Portuguese | Soltador de Pipa | |
| Russian | Воздушный змей | |
| Spanish | Experto en cometas | |
Trivia