This subject currently has no proper strategy associated with it. If you have figured out a good strategy, please
add it
or the zombies will eat your brains!
Kinnikannon (熊果臼炮; pinyin: Xióng guǒ jiù pào) is a plant from Renaissance Age in the Chinese version of Plants vs. Zombies 2. He attacks by launching a Bearberry on the ground, the bearberry rolls on the ground dealing damage to every zombie on the row it was launched in. The bearberries launched will not continue rolling when it hits a Marble Mound or a Statue.
Origins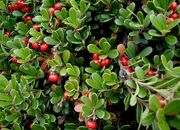 Kinnikannon is based on the Bearberry, a species of dwarf shrubs found in Arctic and Subarctic North America, Asia and Europe.
His name is a portmanteau of "Kinnikinnick", a mixture of various tobacco and herbs often including Bearberries, and "Cannon", referencing his abilities and appearance.
Almanac entry
In English:

Launches a rolling Bearberry shell to attack a row of zombies.

Plant feature: red plant

Kinnikannon has never been on the front line. As a matter of fact, during inspection his jammed cannon labeled him unqualified.
Upgrades
Plant Food effect
When fed with Plant Food, Kinnikannon launches three larger bearberries: one on its lane, one diagonally upward and one diagonally downward. They remove most zombies out of the lawn, but only deal damage to Gargantuars and machines.
Costumed
The larger bearberries are now on fire, dealing more damage to machines and Gargantuars.
Level upgrade
Level
Upgrades
Description

Jammed Twin Shot
There is a 10% chance to fire two berries at the same time, one rolls on the ground, the other gets launched two tiles and then rolls when it lands.

Combat Training
Kinnikannon gains 50% more attack power and health (150% of initial).

Jammed Once Again
Increases Jammed Twin Shot's effect by 10%.

Cell Activation
Kinnikannon gains another 50% more attack power and health (200% of initial).

Ability Awaken
Kinnikannon may be boosted when planted.

Fighting Power
Kinnikannon gains another 50% more attack power and health (250% of initial).

Golden Cannonball
There's a probability of launching a golden bearberry, golden berries attack the entire row of zombies and has a 100% chance of knocking back small or medium sized zombies. (For zombies that are a higher level then this plant, the probability for knock back is decreased accordingly)

Fighting Power
Kinnikannon gains another 50% more attack power and health (300% of initial).
Gallery
Community content is available under
CC-BY-SA
unless otherwise noted.