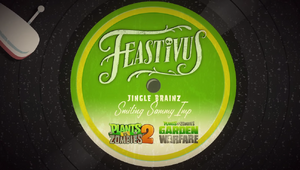 Jingle Brains is a video that was released on the Plants vs. Zombies YouTube channel on December 19, 2014 to announce the Feastivus Piñata Parties for Plants vs. Zombies 2 and the Joyous Holiday Packs for Plants vs. Zombies: Garden Warfare.
Lyrics
Bashing through the snow
In a Snow Pea-powered sleigh
O´er the lawn we go
Tossing snowballs all the way
The sap-cones start to fling
Man, it`s quite a sight!
What fun it is to ride and sing
And give zombies a fright!
Oh, Jingle brains, jingle brains... (plate scratches then stops for a brief time)
Bashing through the snow
In a zombie-powered sleigh
Scientist lights a-glow
Whoa! Chomper's in the way!
Zombies heads in pretty bows
Cactus in festive spikes
What fun it is to ride in snow
And eat tasty brains all night-night-night-night- (plate breaks down)
Cast
Plants
Zombies
Gallery
Trivia
The song is a parody of the classic Christmas song Jingle Bells.
Nearly half of the cards over the fireplace has several references to Christmas and other holidays, such as:

Card no.1 - Wishing you a wonderful winter season
Card no.3 - Merry Christmas
Card no.4 - Happy New Year
Card no.7 - Peace on earth

The Snow Pea in the trailer has an all blue stem, then changed to green after that.

It could be in the middle of its Plant Food ability.
Community content is available under
CC-BY-SA
unless otherwise noted.