No Man's Sky Update - The Loop
Play Sound


Iron Man Nut is a conjectural name for this article.
If you know the official name or have a better name or
translation for it, please contact a wiki
administrator
to change it.
Iron Man Nut (坚果钢铁侠; pinyin: jiānguǒ gāngtiěxiá) is a plant in Plants vs. Zombies: Journey to the West. It is one of the Heroes introduced in the game. It fires energy balls and shot lasers at zombies, which could sometimes deal critical damage.
Origins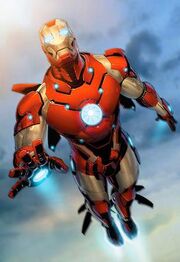 Iron Man Nut is based on a Wall-nut and famous Marvel superhero Iron Man, the alias of genius billionaire playboy scientist Tony Stark, who fights crime in a mechanized full-body suit designed and built by himself, specifically inspired on Iron Man's Mark 1 V2 suit, which has a prominent gold hue across it. The light blue chest piece on Iron Man Nut is taken from the newer iterations of Tony's armor when Iron Man's Arc Reacrtor turns cyan and gains the abilty to shoot a large blast out of it.
Abilities
Iron Man Nut has following abilities:
Iron Man Nut shoots plasma balls, which deals 26 DPS and cannot be upgraded
Iron Man Nut can resist many bites from zombies, absorbing 400 dps. Its health can be increased by "Durability" skill upgrades
Iron Man Nut has a chance to shoot piercing lasers, similar to Laser Bean, but only if "Laser Beams" skill was unlocked
This plant has a chance to shoot rockets from its jetpack, which deals 200 damage to all targets in 3*3 range, but only if "Zenithal Rockets" skill was unlocked
Iron Man Nut can heal itself, when zombies don't eat it, but only if "Recovery" skill was unlocked
If Iron Man Nut has very low heath, it surrounds itself by "Invincible Shield". In this state, it does not take damage, but cannot move. This ability has cooldown and requires appropriate skill
Upgrades
| Icon | Skill | cost of first two upgrades | cost of following upgrades | 0 level | 1 | 2 | 3 | 4 | 5 |
| --- | --- | --- | --- | --- | --- | --- | --- | --- | --- |
| | Durability | 1 | 2 | - | 600 | 700 | 800 | 900 | 1000 |
| | Laser Beams | 1 | 2 | 0% | 8% | 11% | 14% | 17% | 20% |
| | Zenithal Rockets | 2 | 4 | 0% | 4% | 8% | 10% | 12% | 15% |
| | Recovery | 2 | 4 | 0% of max. health | 0.5% | 1% | 1,5% | 2% | 2,5% |
| | Invincible shield | 4 | 8 | 0 sec. | 6 | 8 | 10 | 12 | 15 |
Gallery
Trivia