Fire Emblem Warriors: Three Hopes - The Loop
Play Sound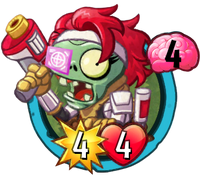 Interstellar Bounty Hunter is a galactic legendary zombie card in Plants vs. Zombies Heroes and a member of the

Beastly class. She costs 4

to play and has 4

/4

. She has the Hunt and

Frenzy traits, and her ability draws a card every time she destroys a plant.
Origins
She is based on a bounty hunter, a person who captures fugitives and criminals for a monetary reward.
Her name and appearance may be a reference to the Bounty Hunter position in the Star Wars universe, as many of them have appeared in the series.
Statistics
Class: Beastly
Tribes: Science Pirate Zombie
Traits: Hunt, Frenzy
Ability: When this destroys a Plant, draw a card.
Set - Rarity: Galactic - Legendary
Card description
If you have a bounty on your head, she won't stop until she eats your brains. It's not personal. It's just business.
Update history
Update 1.16.10
Update ???
▲

Bug fixed: Ability now activates even if she gets destroyed after destroying a plant.
Strategies
With
While she has average stats for a 4-brain card, her

Frenzy and Hunt traits make her a well-rounded fighter for mid-game. Her ability is fine too since it most likely gonna trade the opponents turn 4 play and have a card advantage which can potentially activate dino roar cards but most of the zombie dinosours are not even good. She will also pressure your opponent to play more aggressively, as anything that can't destroy her in one attack or withstand one attack will just result in an extra card for you and extra damage for them. Any Beastly hero can use her to great effect, due to their natural access to boosting cards like Loudmouth and Galvanize, as well as stat-degrading ones like Nibble and Extinction Event.
Due to the nature of this zombie, she will always engage in combat each turn as long as your opponent plays an offensive plant. While 4 health on turn 4 isn't something to underestimate, it isn't remarkably high either. This means an unboosted Interstellar Bounty Hunter will only last a couple of rounds of combat unless your opponent plays very defensively. Therefore, keeping her health high should be your top priority if you want to keep her alive for longer and draw more cards.
Interstellar Bounty Hunter benefits very well with her tribes' synergy cards. Being a zombie whose purpose is to dish out as much damage and destroy as many plants as possible, the strength boost from Zombot Drone Engineer and the bonus attack via Gadget Scientist are very helpful if she is in Immorticia's science deck, especially since the latter allows her to tear through plants without losing any health. Same goes with her pirate tribe; Swashbuckler Zombie boosts her when she hurts your opponent, which won't be hard thanks to her

Frenzy trait, while Captain Flameface can give her the

Strikethrough trait, allowing her to hit your opponent twice if she gets to destroy a plant, on top of boosting her stats combined with Swashbuckler Zombie.
As for the other heroes, The Smash can increase her health by using cards like Camel Crossing or Healthy Treat, heal her with Medic, or downright protect her with Escape through Time to increase her survivability, and thus, the effectiveness of her ability to draw cards. While the Beastly class already has cards that boost health (and strength), the ones in the

Hearty class are cheaper, although the ones that are don't boost strength. Electric Boogaloo, can use her in his control deck since Crazy class has sufficient control cards.
Any cards that can destroy Interstellar Bounty Hunter or prevent her from attacking are her weaknesses, examples being instant-kills, bonus attacks, and

Freezing. Play accordingly depending on what hero and deck you are up against.
Against
Her stats are identical to Drum Major, but her traits and ability make her a dangerous enemy to face. Her Hunt trait can allow the plant hero to manipulate her for an easy victory in some situations, but most of the time, it will be more of a benefit for the zombie hero due to her ability.
The best thing to counter her is by using instant-kill cards against her such as Squash, Shamrocket, or Doom-Shroom but Squash and Doom-Shroom arrives 1 turn late so its not recommended to use them in general. If playing as a

Solar hero, her raw stats make her vulnerable to Toadstool but again, that is cost inefficient. Briar Rose in a flower deck can take care of this zombie quickly but since flowers have low stats, she will still draw a card. Cards that lower her stats like Weed Whack can also lower the likelihood of her activating her ability. As a

Smarty hero, you can

Freeze or Bounce her to stall for a turn.

Guardian heroes have access to high-health Team-Up plants for protection to nullify her ability. Be careful of extra brains for tricks, though, as if boosting tricks like Loudmouth are used on her, she could possibly tear through both plants and draw 2 cards, as well as do damage to you, resulting in a major disadvantage.
You can also play glass cannons to destroy her. However, just be warned that she will still give a card to your opponent, even during combat. High-health tanks such as Wall-Nut can stall her, but because she has the Hunt trait, play your plants carefully.
Gallery
In other languages
Language
Name
Description
English
Interstellar Bounty Hunter
Simplified Chinese

星际赏金猎人

Traditional Chinese

星際賞金獵人

French
Chasseuse de primes cosmique
German
Interstellarer Kopfgeldjäger
Italian
Cacciatrice di taglie interstellare
Japanese

惑星間賞金稼ぎ

Korean

성간 현상금 사냥꾼

Brazilian Portuguese
Caçadora de Recompensas Interestelar
Russian

Космич. охотница за головами

Spanish
Cazarrecompensas interestelar
Trivia