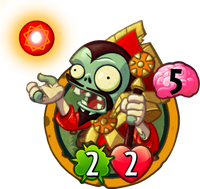 Intergalactic Warlord is a galactic legendary zombie card in Plants vs. Zombies Heroes and a member of the

Hearty class. He costs 5

to play and has 2

/2

. He does not have any traits, and his ability gives all zombies on the field, in the zombie hero's hand, in the zombie hero's deck, including him, and those that are made or transformed, +1

/+1

for the rest of the current match when he is played. This ability stacks for each Intergalactic Warlord played and persists until the end of the match.
Origins

He is based on a warlord, a military commander exercising civil power by force, usually a limited area. He also resembles Ming the Merciless, the main antagonist of the Flash Gordon comic strip.
Statistics
Class: Hearty
Tribes: Mustache Pirate Zombie
Traits: None
Ability: When played: For the rest of the game, all Zombies get +1/+1.
Set - Rarity: Galactic - Legendary
Card description
In space Zombie circles, he's a very powerful figure. Just don't talk about him in front of Huge-Gigantacus. There's some jealousy there.
Update history
Update 1.16.10
Strategies
With
Despite his low stats Intergalactic Warlord's ability can be a game-changer, as it persists for the whole game once he is played, even for zombies that are normally unable to be boosted (Gravestones, cards in your hand, etc). Using this makes your zombies survive longer and do more damage to your opponent's defenses.
All Hearty Heroes can use Flag Zombie to rapidly swarm the field with cheap costing Zombies in the early game, then play Intergalactic Warlord several turns earlier than normal, which can overwhelm your opponent with permanently boosted cheap Zombies by the mid-game.
If playing as Neptuna, you can use In-Crypted, Firefighter, or Mixed-Up Gravedigger to reactivate his ability. You can also have him attack your opponent directly to boost his stats with Swashbuckler Zombie on the field, and further assist this by giving him the

Strikethrough trait with Captain Flameface, since he is also a pirate zombie.
As The Smash, you can play Secret Agent to reactivate Intergalactic Warlord's ability, as well as give him a huge boost. He can also play Synchronized Swimmer, which will not only copy the stats of a boosted zombie, but also gain an extra +1/+1 for each time Intergalactic Warlord's effect is triggered.
As Rustbolt, you can combine this with Mustache Waxer to gain extra brains, or use him to Evolve Duckstache. He can also use Cryo-Brain to ramp to Intergalactic Warlord on Turn 4 or earlier. However, both uses pale in comparison to other heroes as Rustbolt can't reuse his ability.
Against
While Intergalactic Warlord himself is no threat, his ability is very dangerous as it gives all zombies your opponent uses a boost, and cannot be prevented or countered. The best thing to do is to defeat your opponent before too many zombies get too powerful, but if you can't, the most important thing to remember when facing this zombie is to never Bounce him unless it ensures your victory, as your opponent can replay it and boost all their zombies once again.
If your opponent is Neptuna, attempt to destroy this zombie immediately - which should not be too difficult due to his low stats - As she will abuse her bouncing cards to reuse his ability otherwise. Although The Smash can also do this, it is less likely that he will be running Secret Agent.
Gallery
In other languages
Language
Name
Description
English
Intergalactic Warlord
Simplified Chinese

星际军阀

"Interstellar Warlord"
Traditional Chinese

星際軍閥

French
Seigneur intergalactique
German
Intergalactischer Kreigsherr
Italian
Signore della guerra intergalattico
Japanese

銀河系司令官

Korean

은하계 사령관

Brazilian Portuguese
Senhor da Guerra Intergaláctico
Russian

Межгалактич. полководец

Spanish
Señor de la guerra intergaláctico
Trivia
His description is the first time Huge-Gigantacus has been mentioned, as Huge-Gigantacus was released after Galactic Gardens.
He is the only pirate card in the Hearty class.