Icy Fume-shroom is a conjectural name for this article.
If you know the official name or have a better name or
translation for it, please contact a wiki
administrator
to change it.
For other uses, see Fume-shroom (disambiguation).
Icy Fume-shroom (寒冰大喷菇; pinyin: hán bīng dà pēn gū) was a plant in Plants vs. Zombies Social Edition, and a premium plant based on Fume-shroom. It costed 200 sun. It shot out icy fumes that slowed zombies down, and could pass through screen doors and ladders.
Almanac entry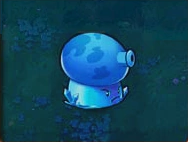 寒冰大喷菇
寒冰大喷菇喷出的气泡可以穿透铁丝网
门,并让僵尸减速
伤害:减速 (可以穿透铁丝网门)
范围: 被气泡喷中的僵尸
白天要睡觉
"要不我偷偷地跟踪我那小气的弟弟,我还真不知道这世上竟然还有这么刺激的工作 (喷杀僵尸)。"
In English: Icy Fume-shroom

Icy Fume-shroom's fumes can penetrate screen doors and slow down zombies.
Damage: slowing (can penetrate screen doors)
Range: all zombies in the fume cloud
Sleeps during the day

"If I hadn't secretly follow my stingy little brother, I really didn't know that there could be such an exiting job in the world (blasting zombies)."

Cost: 200
Recharge: fast
Gallery
Trivia
It is the second upgrade plant to be an ice-related upgrade of a pre-existing plant, the other being Winter Melon.

Of these, it is the only Chinese exclusive example of this occurring.

It is the second out of three mushrooms that use ice against zombies, with the first being Ice-shroom, and the third being Cryo-shroom.
It is the second upgrade for Fume-shroom, with the first being Gloom-shroom.
See also
Community content is available under
CC-BY-SA
unless otherwise noted.