Icy Currant (寒冰醋栗: pinyin: Hán bīng cù lì) is a plant in the Chinese version of Plants vs. Zombies 2 introduced in the 2.2.4 update alongside Electric Peashooter and Hot Date. Like Electric Currant, two Icy Currants on the same lane or column will generate an ice wall that slows down zombies. He can attack zombies by creating an ice tile on his tile that slows zombies down to defend himself.
Origins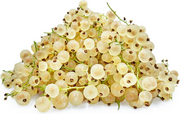 Like Electric Currant, he is based on the currant, more specifically, the white currant.
His name is a combination of the words "icy," referring his ability and appearance and "currant," the real-life plant he based on.
Almanac entry
寒冰醋栗

Icy Currant

同一行或列的寒冰醋栗之间可以形成冰地,对经过的僵尸造成伤害。

用法:

同一行或列的两个寒冰醋栗之间会形成冰地

植物特征:

白色植物,冰封万里

寒冰醋栗常年在零下30度的地区生活,经常和寒冰豌豆聊天,突然一天寒冰醋栗它打了个喷嚏,它说了句:这天好冷啊~
寒冰醋栗 (Icy Currant)
Sun cost: 150
同一行或列的寒冰醋栗之间可以形成冰地,对经过的僵尸造成伤害。
用法:同一行或列的两个寒冰醋栗之间会形成冰地
植物特征:白色植物,冰封万里
寒冰醋栗常年在零下30度的地区生活,经常和寒冰豌豆聊天,突然一天寒冰醋栗它打了个喷嚏,它说了句:这天好冷啊~
In English:

Icy Currants between the same line can form ice to freeze zombies.

Special: Two Icy Currants on the same lane or column will form ice
Plant features: White plant, frozen miles

Icy Currant lives in a sub 30 degree region year-round and often chats with Snow Pea. One day Icy Currant sneezes and said "It's so cold today!"
Upgrades
Plant Food upgrade
Gains an iceberg armor for around 5 seconds, which gives Icy Currant invulnerability for around 5 seconds, afterward, it will permanently gain bonus attack power, similar to its counterpart.
Costumed
Icy Currant's iceberg armor will explode when it ends, dealing damage to zombies around him.
Level upgrades
Level
Upgrades
Description

Ice Shard
Attacks have a chance to freeze zombies for a second.

Combat Training
Icy Currant gains 50% more attack power and health (150% of initial).

Encased In Ice
Chance for Ice Shard increases.

Cell Activation
Icy Currant gains another 50% more attack power and health (200% of initial).

Ability Awaken
Icy Currant may be boosted when planted.

Fighting Power
Icy Currant gains another 50% more attack power and health (250% of initial).
Strategies
Use this plant as you would an Electric Currant. Pair him with Sweet Potato or Garlic to make sure all zombies go within range. Keep in mind that he does not have a ranged attack unless you have multiple in the same column or row.
However, Icy Current has a lot of weakness. The aforementioned short-range makes him impractical for damaging and slowing zombies. In addition, there are far better-slowing options, such as Snow Pea, Sap-fling or Cold Snapdragon.
Gallery
Trivia
His description is a typical cold joke.

It also mentions Snow Pea, as both are Ice–based plants.

He is the fifth plant to be an ice variant of an already existing plant, with the other four being Snow Pea, Winter Melon, Cold Snapdragon, and Cryo-shroom
Although he doesn't appear in the international version, a seed packet texture for him is present in the files.
See also
Community content is available under
CC-BY-SA
unless otherwise noted.