This subject currently has no proper strategy associated with it. If you have figured out a good strategy, please
add it
or the zombies will eat your brains!

This article is under construction and requires more content. You can help our wiki by
expanding it
.
For the plant in Plants vs. Zombies 2 that the line is based on, see Snow Pea.
The Ice Pea line (冰豌豆系; pinyin: bīng wāndòu xì) is a Brave Class A plant line in Plants vs. Zombies: All Stars.
The line consists of Droplet Shooter (水滴射手; pinyin: shuǐdī shèshǒu), Snow Pea (寒冰射手; pinyin: hán bīng shèshǒu), and Frostbolt Shooter (冰箭射手; pinyin: bīng jiàn shèshǒu). They all specialize in freezing single targets. Droplet Shooter attacks by firing globules of water, Snow Pea fires ice balls, and Frostbolt Shooter fires ice arrows.
Origins
The second tier of the Ice Pea line,
Snow Pea
, is based on the
plant of the same name and appearance
from
Plants vs. Zombies 2
.
Almanac entry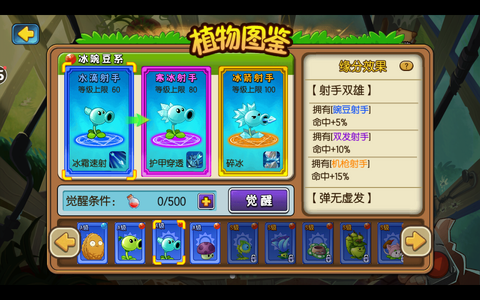 Ways to obtain
Ice Pea line is unlocked during tutorial. Additional puzzle pieces can be obtained through replaying Prehistoric Ages - Day 18, Pirate Seas - Day 8 or Wild West - Day 23.
Abilities
Abilities are unlocked by tiering up, while their effect is increased through star leveling.
Note: 10(+5)% means that at LV1 this ability has a 10% on LV1, 15% on LV2 and so on.
Tier
Effect
Description
1

Quick Freeze
[Active]
Deals damage to the closest enemy in its lane with a chance to freeze it for 2 turns.
Extinguishes flames.
Additional damage 460(+460).
2

Rigor
[Passive]
Attacks ignore up to 180(+180) armor of target.
 3

Icebreaker
[Passive]
Quick Freeze deals extra 74(+74) damage.
This effect doubles, if target is frozen.
Star leveling
After unlocking the Ice Pea line, additional puzzle pieces can be used to upgrade it, which increases its stats and ability LVs.
Stars
Puzzle Pieces& required
Upgrade
Coins
Stars
Puzzle Pieces& required
Upgrade
Coins
1
0
+298
0k
1
40
+159
100k
2
2
+99
1k
2
40
+881
121k
3
4
Crit+104
4k
3
50
Crit+341
144k
4
8
+117
9k
4
50
+919
169k
5
15
+482
AbilityLv2
16k
5
60
+175
AbilityLv4
196k
1
15
+420
25k
1
60
+1004
225k
2
20
+124
36k
2
70
+191
256k
3
20
Crit+223
49k
3
70
Crit+460
289k
4
30
+688
64k
4
80
+189
324k
5
30
+135
AbilityLv3
81k
5
80
+239
AbilityLv5
361k
Soulmates
Ice Pea line stats will be increased if these specific plants are unlocked.
Gallery
General
Droplet Shooter
Snow Pea
Frostbolt shooter
Trivia
When Droplet Shooter shoots, bubbles come out of its mouth.
Both Droplet Shooter and Frostbolt Shooter's costumes are the same as Snow Pea's costumes in Plants vs. Zombies 2.
Despite Droplet Shooter being water-themed, it is still classified as an ice plant, and also functions as one. This might make sense, as it evolves into Snow Pea.
During beta Ice Pea line used to have combinations with the Pea line (Crit increased by +10%), with the Coconut line and the Watermelon line (Attack and crit defense increased by +10%)
Before v1.0.81 Ice Pea line was unlocked by completing American Suburbs - Day 3.
Community content is available under
CC-BY-SA
unless otherwise noted.