This article is under construction and requires more content. You can help our wiki by
expanding it
.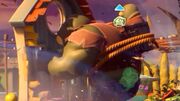 House Gargantuar is a boss in Plants vs. Zombies: Garden Warfare 2. He appears in Backyard Battleground and Garden Ops. He uses the front of a yellow house with white outlines as a shield and his weapon. The House can absorb a lot of damage, about half a Gargantuar's health, but shooting him from behind or through the "window" hole will do direct damage.
Update history
All Gargantuar melee's have increased in effectiveness.
Abilities
Shield Slam: Uses the house to crush plants, similar to Gargantuar's Pole Slam.
Shield Charge Slam: Roars, and charges at a plant, crushing them when he gets to them.
Imp Grenade: Lobs an Exploding Imp at the Player which does some damage.
Health
Easy: 1400 HP
Normal: 2100 HP
Hard: 2800 HP
CRAAAAZY: 3500 HP
Appearances
Backyard Battleground: as a boss.
Garden Ops: Only In a Super Gargantuar Wave, one of them will be a House Gargantuar.
Infinity Time: Nemesis Waves and boss waves.
Gallery
Strategies
House Gargantuar is tough. Make sure to not target the shield due to the fact that this zombie will turn into a normal Gargantuar if that happens, thus giving the player more work to do. One strategy is to try to find something to distract him on, like a weed, another player, potted plant, and then attack him from the back. If you are fighting alone in Garden Ops, then you should plant a potted plant to distract him with, and then attack him from the back. Since he is a boss, he will likely kill the potted plant easily, so be aware of this. Potted plants like Ice-shroom , Scaredy-shroom, Heal Flower, Fume-shroom work best. 
Community content is available under
CC-BY-SA
unless otherwise noted.