Fire Emblem Warriors: Three Hopes - The Loop
Play Sound
Not to be confused with Heal Zombie from Plants vs. Zombies: Garden Warfare.
Healer Zombie is a zombie encountered exclusively in Penny's Pursuit and Arena. With his caduceus, he can heal zombies and undo negative effects done to them.
In the Chinese version, he has an Elite variant that can give zombies an invincibility boost for a few seconds.
Overview
Healer Zombie absorbs 555 damage per shot. He degrades at 277.5 DPS (when his arm is lost) and finally is defeated at 555 DPS (when his head is lost). When defeated, his dropped caduceus will kill any allied zombies on its tile, and can absorb 350 DPS, only degrading on destruction.
Healer Zombie can heal himself and other zombies for 50% of their max health and undo a variety of special effects, of which he is also immune to. His caduceus is only capable of healing.
He can't heal the following zombies:
Origins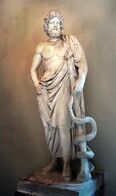 Healer Zombie could possibly be based on the Roman god of healing, Asclepius, as both the zombie and him are specialized in healing and curing. Their appearance — beard and robes — are similar and they both have a serpent-entwined staff known as a caduceus.
Almanac entry
Normal
Healer Zombie

Uses weird Roman magic to heal zombies.

Hot tip: take this one out as fast as you can if you don't want your life turned into a pit of abject misery and despair.
Healer Zombie
TOUGHNESS: Dense
SPEED: Creeper
Uses weird Roman magic to heal zombies.
Hot tip: take this one out as fast as you can if you don't want your life turned into a pit of abject misery and despair.
Elite  

(China only)
Elite Healer Zombie
TOUGHNESS: Dense
SPEED: Creeper
Normally Healer Zombie only casts healing magic on other zombie, until one day he was defeated by a demon. His soul came to the peak of a snow mountain and there it defeated a gigantic dragon. Ever since then this old zombie opened a brand new field of magic and his wand also became more powerful.


Now not only does it use weird Roman magic to heal all the zombies on the lawn, it also makes them invincible.
Encounters
Strategies
The Healer Zombie's abilities are devastating, so he must be dealt with appropriately before he can get any further. You will have to either paralyze him somehow or obliterate him as soon as he spawns, all while avoiding his strengths as you find openings. Don't ever cheat with niche plants or silver bullets as he is immune to the vast majority of them and these can even backfire if given the chance with very few exceptions.
Healer Zombie's base health isn't that high, but he can nevertheless quickly refill it and heal other zombies, yet cannot revive those already defeated. Resort to instant-kill methods that can quickly reach him and take out his allies such as Laser Bean/Citron's Plant Food, Jalapeno, Banana Launcher, Blover + most plants knocking zombies back, Explode-o-Vine. Primal Potato Mine whenever possible or even the Chili Bean if you are really desperate. As for his caduceus, you can either choose to kill him with any attack that uses the scorching animation (Electric Blueberry, Cherry Bomb, etc), use the previously mentioned tactics or smite it with Boingsetta.
List of the effects that Healer Zombie is immune to (even when the plant is boosted):
Gallery
In other languages
| Language | Name | Description |
| --- | --- | --- |
| English | Healer Zombie | |
| Simplified Chinese | 治愈者僵尸 | |
| French | Zombie druide | |
| German | Heiler-Zombie | |
| Italian | Zombi guaritore | |
| Brazilian Portuguese | Zumbi Curandeiro | |
| Spanish | Zombi sanador | |
Trivia
He is called "Druid Zombie" in the French version.
He is called Roman Healer Zombie in Dartichoke's Almanac, which may be a beta alias or a reference to his Roman theme.
He, Zombie Chicken, Jurassic Imp and Magician Zombie are the only zombies with odd numbers for their health.
See also