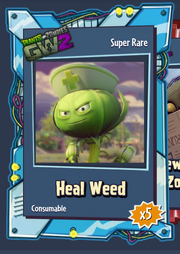 Heal Weed
is a
Spawnable Plant
and a
Weed
variant in
Plants vs. Zombies: Garden Warfare 2
. It has slightly less health than a Terracotta Weed. Once summoned, it will search for injured plants. When it meets a plant, the Heal Weed will begin to drop sundrops to heal that plant every 3-5 seconds or so. It is the plant counterpart of the
Heal Zombie
.
In Backyard Battleground, Heal Weeds, if a player gets close enough to one, have a tendency to start following after the player exclusively, completely ignoring other plants, even if the player is at full health. It will not stop following the player unless the player gets far away enough or the player activates the Cactus' Garlic/Artichoke Drone. The same goes for the Flag Weed.
Stickerbook description

This Weed comes equipped with magical healing generic brand adhesive bandages! Don't tell anyone, but they aren't waterproof.
Gallery
Trivia
Its headgear is most likely based on the "Organic Nurse Cap" hat for the Sunflower from the first game.
If one looks closely, one can see that it wears a backpack made of leaves.
Ironically, its ability to drop healing sun references a scrapped ability for the Sunflower.
Unlike Heal Zombies, Heal Weeds can heal themselves with their own sun drops.
In Backyard Battleground, Heal Weeds do spawn along with other Weeds. However, their zombie counterparts do not spawn.
Sometimes it will follow you even if you're not hurt.
See also

This article is a stub. Please help us
expand it
, or the zombies will eat your brains!
Community content is available under
CC-BY-SA
unless otherwise noted.