For the power-up in Plants vs. Zombies 3, see Grapes of Wrath. Grapes of Wrath is a premium super-rare plant card in Plants vs. Zombies Heroes and a member of the

Kabloom class.
It costs 7

to play and has 6

/6

. It does not have any traits, and its ability does 6 damage to the zombie hero when it is destroyed. Its closest zombie counterpart is Gas Giant.
Origins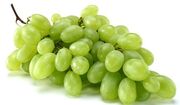 Grapes of Wrath is based on green grapes. It may also be based on Grapeshot, as they are both multiple grapes with faces, a stem, and are explosive.
Its name is a reference to the John Steinback novel The Grapes of Wrath and how they are literally "angry".
Its description may be a reference to a quote made by the Joker. The quote goes: "Why so serious?"
Statistics
Class: Kabloom
Tribe: Berry Plant
Traits: None
Ability: When destroyed: Do 6 damage to the Zombie Hero.
Set - Rarity: Premium - Super-Rare
Card description
"Everyone's always asking, 'Why so angry?' Because ZOMBIES! Sheesh. Obviously."
Update history
Update 1.6.27
Design change: Its eyes and mouths have been changed, now looking more human.
Strategies
With
For 7 sun it might not be tempting to bring it out due to the slightly below-average stats for the cost. However, Grapes of Wrath is a dangerous plant due to it being able to do severe damage to your opponent in almost every situation with very few ways to bypass it.
Doing 6 damage - about one-third of your opponent's max health - is a pretty big game-changer, and it activates when Grapes of Wrath is destroyed, preventing your opponent from playing their powerful finishers or instant-kills as doing so would basically cost them a third of their max health.
And if they leave Grapes of Wrath alone in the fear of taking 6 damage straight, it will get to do equally high damage with its attacks anyway. If your opponent has low health and they aren't able to nullify its ability or heal themselves at that state, the presence of Grapes of Wrath will spell doom for them.
Try not to damage your opponent while this plant is on the field, because its ability damage can be blocked if your opponent's Super-Block Meter is almost full. Of course, you can refrain from playing this plant and use a weak attack to trigger the Super Block (The Kabloom Class can use Berry Blast or Shelf Mushroom) before deploying Grapes of Wrath.
It isn't a good idea to protect this plant with Umbrella Leaf if playing as Captain Combustible, as the only tricks worth playing on it for the enemy would be those that can bounce it, which in turn is only usable by sneaky heroes.
Another powerful way of using Grapes of Wrath is with Tactical Cuke or Doom-Shroom. Although these strategies are bound to specific heroes only, it ensures that Grapes of Wrath will always dish out heavy damage to the opponent while wiping all the high-strength zombies (and your plants) on the field. Captain Combustible, on the other hand, can give it a major strength boost and put the opponent in a serious dilemma.
Because this card is in the Berry Tribe. it has good synergy inside the Kabloom Class. Whenever it does damage or gets destroyed, Sergeant Strongberry does 2 bonus damage to it while High-Voltage Currant gains bonus strength., and Strawberrian gets to activate its ability when this card is played.
Playing it in Pair Pearadise is far more devastating, as they will demolish any zombie and if they are both destroyed, they can take up to two-thirds of the zombie hero's max health, allowing Kabloom heroes to easily chip them down if they can't heal.
Against
Once your opponent puts Grapes of Wrath into play, you will have to think carefully. If left alive, it will continue to deal massive damage to everything in its way. But if destroyed, it will do 6 damage straight to you. While destroying it quickly results in less harm overall, you will have to plan carefully before and after destroying it.
A good way to deal with Grapes of Wrath is to stall it while minimizing the damage done to it. Freezing cards are the best example, as they buy you a turn. You can also use zombies with 0 base strength to get the same outcome, although they are at risk of being destroyed by a trick. Stupid Cupid can also buy a turn with its ability.
However, with Impfinity, do not use this strategy when Toxic Waste Imp is on the field, as Grapes of Wrath will be simply destroyed. Bouncing it works even better than stalling it due to the high cost, forcing the opponent to reconsider their strategy, especially if you demolish their defenses a lot; however, your opponent will not hesitate if you are low on health.
Negating Grapes of Wrath's ability (for you, at least) is also possible. The easiest way is to simply use Planetary Gladiator. It is even possible to play shielding card, thereby preventing you and him from being damaged (unless the opponent has hard removals with destroy effects).
The Undying Pharaoh also works, allowing you to ignore the plant entirely if it doesn't come under fire. But since these strategies is only possible as a

Hearty hero, a more universal way is to nearly fill up the Super-Block Meter and then destroy Grapes of Wrath to block the 6 damage, although it is much harder to pull off due to it being luck-based, unless the Super Block Meter is only one section to full.
However, even the super-block meter strategy isn't viable, as the Kabloom class Heroes have many direct damage cards that can waste your super-block meters, with Spudow being the most dangerous example, since his Bullseye plants from the Guardian class can ignore super blocks and disrupt your plans.
Though it is in the Berry tribe, do not use Squirrel Herder on it as it will just damage you for 6, unless you are about to block an attack, anyway.
Gallery
Plants vs. Zombies Wiki
has a
gallery
for Grapes of Wrath.
In other languages
Language
Name
Description
English
Grapes of Wrath
Simplified Chinese

愤怒的葡萄

Traditional Chinese

憤怒的葡萄
Trivia
It is the most expensive berry card in the game.
The faces of the new design mostly resembles the design of Cherry Bomb in Plants vs. Zombies.

Oddly, even after the update, the faces on the grapes that are part of Cornucopia remain the same as the original ones.