Raise a Floppa - The Loop
Play Sound

Grape Power is a colossal super-rare plant card in Plants vs. Zombies Heroes, and a member of the 

Mega-Grow class. It costs 3

to play, and its abilities double the strength of a selected plant, and add a Grape Responsibility into the plant hero's hand.
Origin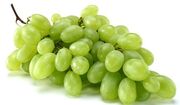 It's based on green grapes, real life fruits (botanically, berries).
Its name is a play on the saying "With great power, comes great responsibility."
Its ability is another reference to this saying, as Grape Responsibility is given to the plant hero by playing Grape Power.
Its description is a reference to Dino-Roar abilities, and how they activate after a card is drawn or Conjured (the latter in Grape Power's case).
Statistics
Class: Mega-Grow
Tribe: Berry Trick
Abilities: Double a plant's . Gain a Grape Responsibility.
Set - Rarity: Colossal - Super-Rare
Card description
A dinosaur's favorite primordial snack.
Update history
Update 1.22.12
Strategies
With
Grape Power is a potentially destructive stat-boosting trick. Unlike many other stat-boosting tricks which increase a stat by a set amount, Grape Power doubles it. This decides Grape Power's usefulness depending on the plant's strength; the more strength it has, the more useful Grape Power is. Therefore, try to pack many strength-boosting cards to make it more useful.
Other than its potent strength-boosting ability, this trick also Conjures a Grape Responsibility. If you have 4

on a given turn, you can double both the strength and health of a single plant, or divide them upon two. Its ability can also activate Dino-Roar abilities, and Captain Cucumber can make it cost less, thus making it a free card for you, so keep that in mind.
You can use this with Re-Peat Moss to make it do bonus attacks with its newly doubled strength. If you have enough sun, you can play Grape Responsibility right after to make it do another bonus attack. It helps even more if Re-Peat Moss' strength was already boosted. In fact, you can also pair any plant with this and Coffee Grounds to punish your opponent if they try to block the boosted plant with a zombie, assuming the plant survives.
Since it is a berry, Captain Combustible can use this in tandem with Strawberrian, although there are obviously cheaper berry cards for the purpose of triggering his ability. He can also play it on Grapes of Wrath, turning it into a massive 12/6 threat for just 3 sun, and since it has a dangerous "when destroyed" ability, you usually won't need to worry about it being vulnerable to hard removals.
Against
There is nothing you can do to stop the trick from being played other than increasing its cost with Defensive End or trying to discourage its use with Fraidy Cat. A good idea against the boosted plant is to use hard removal cards such as Rocket Science (since its strength will likely exceed 4), Locust Swarm, and Primodial Cheese Shover Since it boosts only strength and not health, a damaging trick can be used to destroy Glass Cannons. Beware that the Mega-Grow class has umbrella leaf, however. You can also use a weak Deadly Zombie/Relevant Tricks to neutralize the plant, though playing a trick is much better as the plant hero cannot do anything to counter it.
Because of its ability to Conjure a Grape Responsibility, you can also play Quickdraw Con Man so the Plant Hero will take 1 unblockable damage when they play it. You can also use deadly zombies to nullify the health boost.
Gallery
In other languages
| Language | Name | Description |
| --- | --- | --- |
| English | Grape Power | |
| Simplified Chinese | 能力葡萄 | lit. "Power Grape" |
| Traditional Chinese | 超能葡萄 | lit. "Superpower Grape" |
| French | Fulguraisin | |
| German | Traubenkraft | |
| Italian | Potere all'uva | |
| Japanese | グレープパワー | English name transliterated into Japanese |
| Korean | 포도 파워 | |
| Brazilian Portuguese | Cacho de Poderes | |
| Russian | Сила Винограда | |
| Spanish | Poder de uva | |
Trivia
It is the first and currently only berry card in the Mega-Grow class.
See also