Gotcha! is an achievement that can be obtained on the iOS and Android versions of Plants vs. Zombies. To get this achievement, the player must use the single Plantern in Ace of Vase or Vasebreaker Endless to reveal a vase with a Gargantuar inside.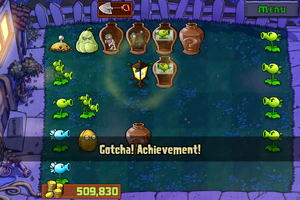 Strategies
It is mostly based on luck, but if you find a Plantern, use it in the center of eight vases, so there will be a higher chance of finding the Gargantuar. If you are serious about getting the achievement, you may also consider restarting the level if the Plantern doesn't find the Gargantuar, or if the Gargantuar is released before you find the Plantern. Doing this each time will increase the probability of getting Plantern.
Video walkthrough
Trivia
The Imp on the Gargantuar vase in the achievement's icon appears to be naked.
* means the achievement is PC-exclusive.
** means the achievement is handheld-exclusive.
*** means the achievement no longer exists.