New Pokemon Games - The Loop
Play Sound


This subject currently has no proper strategy associated with it. If you have figured out a good strategy, please
add it
or the zombies will eat your brains!
Geisha Flower (刺眼花艺伎; pinyin: cìyǎnhuā yìjì) is a plant in the Chinese version of Plants vs. Zombies 2 for the second part of Heian Age. She was introduced in the 2.6.4 update. She throws her fan at zombies down her lane, damaging the first zombie it encounters.
When a zombie is hit by Geisha Flower's fan, the fan will return to Geisha Flower in an arc, alternating between the arc going through the top adjacent lane, then the bottom adjacent lane.
Origins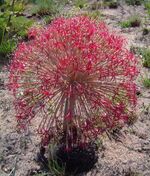 Geisha Flower is based on the century plant (Boophone disticha), also more commonly known as the poison bulb or sore-eye flower, a flowering bulbous plant native to Africa that has been historically used for its poisonous properties.
Geisha Flower's name and appearance are based on Japanese geisha performers, entertainers trained in the traditional Japanese preforming arts.
Almanac entry
刺眼花艺伎

Geisha Flower

飞回的花扇可以对攻击范围内的僵尸造成伤害。

用法:不仅能对当前行的僵尸进行攻击,还可以在花扇飞回时对其他行的僵尸造成伤害。
植物特征:绿色植物
长久的艺伎表演训练让她拥有量纯熟的花扇操纵技巧,她将用华丽的花扇表演来展示她对抗僵尸的实力。
刺眼花艺伎 (Geisha Flower)
Sun cost: 175
DAMAGE: Normal
RANGE: Multi-Hit
RECHARGE: Fast
飞回的花扇可以对攻击范围内的僵尸造成伤害。
用法:不仅能对当前行的僵尸进行攻击,还可以在花扇飞回时对其他行的僵尸造成伤害。
植物特征:绿色植物
长久的艺伎表演训练让她拥有量纯熟的花扇操纵技巧,她将用华丽的花扇表演来展示她对抗僵尸的实力。
In English:

A returning flower fan can damage zombies within its attack range

Usage: Can not only attack zombies down its current row, but also damages zombies in other rows when its fan flies back.
Plant characteristics: green plant

Continuous geisha performance training has given her proficient flower fan dexterity. She'll put on a gorgeous fan performance to show her strength against the zombies.
Upgrades
Plant Food effect
Geisha Flower's Plant Food ability makes her throw a flaming fan rapidly down her lane. This flaming fan deals heavy damage to the first zombie it encounters as well as knocking them back. The fan will also split in half, returning to Geisha Flower in two arches that that attack the top and bottom adjacent lanes simultaneously.
Costume
Geisha Flower's costumed effect creates an additional fan to pierce through all zombies down the lane, on top of its normal effect.
Level Upgrade
Level
Upgrades
Description

Flying Bird
Fan has a 50% chance to pierce all zombies in its way, returning when it hits the back of the lane.

Combat Training
Geisha Flower gains 50% more attack power and health (150% of initial).

Aerial Ace
Makes Level 2's effect permanent.

Cell Activation
Geisha Flower gains another 50% more attack power and health (200% of initial).

Ability Awaken
Geisha Flower may be boosted when planted.

Fighting Power
Geisha Flower gains another 50% more attack power and health (250% of initial).

Swallow Dance
When the fan hits a zombie from behind, it deal 2.5x damage.

Fighting Power
Geisha Flower gains another 50% more attack power and health (300% of initial).
Strategies
TBA
Gallery
Videos
Trivia
She reuses Bloomerang's sound effects for her attacks.
Her Chinese name specifically uses the Chinese word for "geigi" instead of "geisha".
See also