Raise a Floppa - The Loop
Play Sound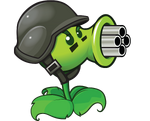 Gatling Pea is a recurring character within the Plants vs. Zombies franchise. Similar to Repeater, he is multiple Peashooters in one, in this case, four Peashooters, firing four peas at a time rather than just one.
As of Plants vs. Zombies 3, Gatling Pea has appeared in seven games.
Origins
Like the other peashooting plants, he is based on the pea (Pisum sativum). His name and appearance are reference to the "gatling gun", one of the best known early rapid-fire weapons, invented by Richard Gatling. 
His name is a combination of the words "gatling" referring to his appearance, and "pea" referring to how he is a peashooting plant.
History

In the original Plants vs. Zombies game, as well as all Chinese spin-off games based on it, Gatling Pea is one of the first two upgrade plants that can be obtained, obtainable after beating Level 3-4 for $5000 worth of in-game currency.
He costs 250 sun and can only be planted on the lawn by placing him on a pre-existing Repeater. Gatling Pea functions as an upgrade to Repeater, firing four peas per cycle rather than Repeater's two.

Gatling Pea also stars as a playable plant in the Nintendo DS exclusive mini-game Air Raid, riding a Flower Pot airplane to go after Dr. Zomboss. His pot can be upgraded into a Pumpkin to guard against two hits and he can be upgraded into a Threepeater to fire in three directions, but still fires 4 peas per direction at the same speed.

Gatling Pea also has a ZomBotany counterpart with Gatling Pea Zombie. They work just like Peashooter Zombie, firing peas at plants while advancing towards the lawn eating plants, but is able to fire four peas at a time rather than simply one. Gatling Pea Zombie only appears in the second Zombotany minigame.

Gatling Pea also appears in all the shooter games as a spawnable potted plant, with Plants vs. Zombies: Battle for Neighborville being his latest appearance.
Gatling Pea is able to be spawned at certain locations on the map and function as an offensive turret. In Battle for Neightborville, Gatling Pea requires a 3 minute cooldown between spawnings. Like his main game counterpart, he fires a burst of peas, but these are smaller, rapid fire peas that deal low damage versus the heavier, slowly fired splash damage peas of Pea Cannons and Pea Repeaters.

There is a similarly named ability for the Peashooter in the shooter series name Pea Gatling, which allows Peashooter to root himself to the ground and be able to fire heavy damaging peas at a fast rate. Pea Gatling also has an alternate variant named Retro Gatling, which is slower firing but deals greater damage.

Gatling Pea later reappears in the Chinese-exclusive turn-based game Plants vs. Zombies: All Stars as the final plant in the Pea line, evolving from Peashooter and then from Repeater. Unlike other games, he attacked by firing three plasma balls at a time.
His active ability was Pea Barrage, which simply damaged the zombie closest to them. His passive abilities were Fire Fighter which let him deal 50% more damage if any member of the Stump line is in front of them, and Enlarging Mutation, which gave all his normal attacks a chance to deal more damage.
His soulmates were members of the Nut line for a damage boost, the Bomb line for a critical chance increase, and the Charm and Pepper lines together for a damage boost.
Gatling Pea and the Pea line as a whole also serve as the flagship plant line for Brave type plants, and are one of the first plant lines the player unlocks in the game.
Gatling Pea next appearance is in the Chinese version of Plants vs. Zombies 2 as a Promotional Premium plant for the Version 1.8.2 summer event. He used to be only obtainable with money, but this has since been changed in later updates, he is now obtained by collecting 10 of his Puzzle Pieces.
Like his original Plants vs. Zombies counterpart, Gatling Pea once again attacks zombies by firing 4 peas at once at them. Unlike his original counterpart however, Gatling Pea no longer needing to be planted on top of a pre-existing Repeater, with his cost being increased to 375 sun to reflect this. His recharge was also drastically reduced to 5 seconds.
A likely unintended improvement is Gatling Pea's firing speed, as Gatling Pea in this game is faster than his original counterpart. This is due to his firing counter resetting when the first pea fired in his barrage is launched, instead of the last one. When leveled up, Gatling Pea has a chance to fire a pea at an angle, which can possibly hit zombies in other lanes. His Plant Food effect also has him rapidly fire 60 peas down three lanes at once.

Gatling Pea Zombie from the first game also reappears in the Chinese version of Plants vs. Zombies 2 appearing as a zombie encounterable in Penny's Pursuit. He functions the same way he does in the first game, firing four peas at plants while also advancing down the lane and eating them, with the only notable difference being his his firing speed being increased for the same reasons as stated above.

Gatling Pea's latest appearance is in the turn-based mobile card game Plants vs. Zombies Heroes as the

Mega-Grow Legendary of the Colossal Fossils set.
He costs 5

, has 5

/4

and is a member of the Pea tribe. He also has the

Double Strike trait, which allows him to do an additional bonus attack after his initial one.
Gatling Pea also has the Evolved trait, which allows him to activate an additional ability when played on top of another fighter card. When played on top of another member of the Pea tribe, he will instantly do a bonus attack upon being played. If he is evolved on top of Pea Patch, which increases the attack and health stats of all cards played on top of it, Gatling Pea's bonus attack is done before the stat boosts are received.

Despite his relatively late appearance, Gatling Pea was planned to be added to the game from very early on in the game's development. Appearing in the launch trailer and the game's code, originally costing 3

and having 6

/6

, but destroying another selected plant fighter when played.
Gallery
Plants vs. Zombies Wiki
has a
gallery
for Gatling Pea.
Trivia
See also
V ·

T

· E

Recurring characters