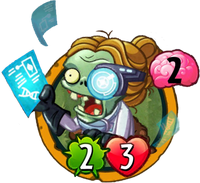 Gargologist is an event zombie card in Plants vs. Zombies Heroes and a member of the

Hearty class. She costs 2

to play and has 2

/3

. She does not have any traits, and her ability reduces the cost of all Gargantuar cards in the zombie hero's hand by 2

. This ability stacks with each Gargologist on the field and persists until all Gargologists are removed from the field.
She was added in the 2016 Feastivus event, but was not obtainable until the Gargantuar Week event. She was available from January 10, 2017, to January 17, 2017.
Origins
Her name might be a pun on "garbologist," a person who studies modern refuse and trash as well as the use of trash cans, compactors and various types of trash can liners.
Statistics
Class: Hearty
Tribe: Science Zombie
Traits: None
Ability: Gargantuars cost 2 less.
Set: Event
Card description
After years of studying Gargantuars in the wild, she's dedicated herself to telling the world they're just misunderstood gentle giants. So far, nobody's buying it.
Update history
Update 1.10.14
Update 1.12.6
Strategies
With
Gargologist is mainly useful for any Hearty hero as each zombie class has at least one Gargantuar card, but she is most useful with The Smash, as the Beastly class has the most Gargantuar cards out of all of them.
While Gargologist is on the field, you can play Gargantuar zombies such as Smashing Gargantuar, or even Gargantuar tricks like Zombot's Wrath for fewer brains after she is played in the previous round. If you are planning to play a Gargantuar card on a turn, play her first as her cost and ability allow for twice as much lawn coverage at the same brain cost, as well as decreasing the cost of every Gargantuar card drawn given Gargologist survives combat.
Each Hearty hero will be able to use this with any Gargantuar card, though more can be used with different classes:
Since she needs to stay alive to keep her ability in effect, try to boost her stats to increase her survivability. Fortunately, though, Gargologist is pretty tough for her cost. Playing Gargologist in Cone Zone allows her to survive Berry Blast or Fire Peashooter on turn 3. If you play as Rustbolt, you can use Teleport to play her in the Zombie Tricks phase.
Here is the list of Gargantuar cards that can be lowered when Gargologist is in play. The numbers represents the card's cost from before to after Gargologist is played, assuming exactly one Gargologist is on the field.
Against
Try to destroy her as quickly as possible as your opponent can play their Gargantuars earlier, which can be as early as turn 3 for Gargantuar zombies (5-brain). Once Gargantuars start entering the field, it will be much harder to take control, as even the weakest Gargantuars boast massive stats. She is especially dangerous with The Smash, as he has access to the most Gargantuars out of all the heroes that can normally use Gargologist. But because Gargologist has average stats, she can be easily destroyed with plant tricks such as Berry Blast.
Gallery
Trivia
During her idle animation, she may occasionally swipe her hand at the hologram in front of her, changing it to a picture of a Gargantuar's head. After a couple of seconds, she swipes her hand at the hologram, changing it back to what it normally shows.
Prior to an update, her mouth opened abnormally wide when attacking. This has since been fixed.
She used to be glitched, as if she was destroyed by plants with Splash Damage trait such as Snapdragon, it would cause the game to soft lock (triggers and events are hit out of order, causing the game's script to break, and further game progression to be impossible).
She can be obtained in the Gargantuar Pack, despite not being in the Gargantuar tribe.

This is most likely because of her synergy with Gargantuars.

If the player looks closely, they can see what appears to be DNA on her hologram.
Community content is available under
CC-BY-SA
unless otherwise noted.