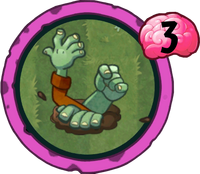 Fun-Dead Raiser is a basic common zombie trick card in Plants vs. Zombies Heroes and a member of the

Brainy class. It costs 3

to play, and its ability draws 2 cards. Its plant counterpart is Flourish.
Origins
Its name is a portmanteau of the words "fun," "fundraiser," and "undead."
Its description directly refers to its ability. It may also be a reference to Patreon.
Statistics
Class: Brainy
Tribe: Party Trick
Ability: Draw two cards.
Set - Rarity: Basic - Common
Card description
Pledge now and get two Zombies plus a free tote bag.
Update history
Update 1.22.12
Strategies
With
While being more expensive than Telepathy, Fun-Dead Raiser is able to be used by all Brainy heroes instead of being restricted to just Professor Brainstorm and Super Brainz, and can be used more than once. It is a more expensive version of Cell Phone Zombie as well, but more cost-effective in terms of cards gained per brain cost.
It is recommended to carry some if your deck focuses on swarming cheap zombies. This is because if you play a lot of cheap cards, you will run out of cards which makes your defenses very vulnerable later on, or even make you lose.
Against
If your opponent uses it, there's nothing you can do about the cards gained. Any zombies gained can be played the next turn. However, you can prevent this trick from being used with Brainana. You can also deter your opponent by using Black-Eyed Pea or Sportacus. Just be careful if you are using the former, as they can purposefully boost it to destroy it with Rocket Science or Cut Down to Size.
Gallery
Old
In other languages
| Language | Name | Description |
| --- | --- | --- |
| English | Fun-Dead Raiser | |
| Simplified Chinese | 众筹复生 | |
| Traditional Chinese | 殭屍招喚術 | |
| French | Zombie quêteur | |
| German | Untoten-Beschwörer | |
| Italian | Evocatore di non morti | |
| Japanese | 愉快なゾンビ募集 | |
| Korean | 즐거운 좀비 모집 | |
| Brazilian Portuguese | Reanimador | |
| Russian | Тамада | |
| Spanish | Levantazombis | |
See also