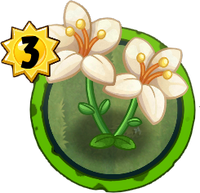 Flourish is a basic common plant trick card in Plants vs. Zombies Heroes and a member of the

Mega-Grow class. It costs 3

to play, and its ability draws two cards. Its zombie counterpart is Fun-Dead Raiser.
Origins
It is based on the real meaning of flourish, which is to grow or develop in a healthy or vigorous way. It might also be a reference to the Hearthstone card with a similar name and ability.
Its appearance may be a pun on "flower."
Statistics
Class: Mega-Grow
Tribe: Flower Trick
Ability: Draw two cards.
Set - Rarity: Basic - Common
Card description
Call it a growth spurt.
Strategies
With
Flourish can be considered a more expensive, yet a more freely usable trick of Holo-Flora. You can play this trick anytime in the game, as long as you have the sun for it. It works well in decks that revolve around drawing cards instantly. For example, using this with Dino-Roar cards can make things go easier, as doing so activates their Dino-Roar ability twice. Flourish can also increase your chances of getting Magic Beanstalk, should you run a deck focused on them.
It is recommended to carry some if your deck focuses on swarming cheap plants. This is because if you play a lot of cheap cards, you will run out of cards which makes your defenses very vulnerable later on, or even make you lose.
Beware of Quickdraw Con Man, as playing this trick will force you to take 2 damage.
Against
While you can't counter this card directly, you could draw more cards than your opponent can use this, play Defensive End to make this card more expensive, or play Quickdraw Con Man to force your opponent to take 2 damage for each Quickdraw Con Man. As for the card itself, it is based on your luck, so be prepared if your opponent gets a powerful card in their hand, as your opponent can get more choices to counter your strategy.
Gallery
See also
Community content is available under
CC-BY-SA
unless otherwise noted.