Raise a Floppa - The Loop
Play Sound

Flat-shroom (平顶菇; pinyin: Píng dǐng gū) is the first plant obtained in Steam Ages in the Chinese version of Plants vs. Zombies 2. It can be only planted on sewers, although those planted on steam sewers will get flung out by the steam after a while.
It acts as a blocker preventing zombies from entering and exiting the transportational sewers for a limited time, until it gets eaten. It is only usable in Steam Ages. It is an environment modifier.
Origins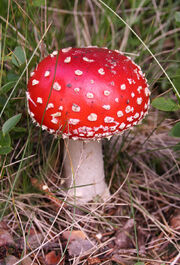 It is based on a mushroom, the fleshy, spore-bearing fruiting body of a fungus. Its literal name, "Flat Roof Mushroom", is a reference to the fact that the pileus, or cap of the mushroom appears to be flattened.
Almanac entry
Note: Flat-shroom's recharge in-game is Sluggish.
平顶菇

Flat-shroom

平顶菇可以堵住地面上的下水道洞。

用法: 一次性使用

特点:堵住一个下水道洞
植物特征:红色植物

平顶菇本想安安静静地晒晒阳光,却总是被人拿来修马路。它表示说"下水道下面可冷了"。
平顶菇 (Flat-shroom)
Sun cost: 0
TOUGHNESS: Typical
RECHARGE: Fast
平顶菇可以堵住地面上的下水道洞。
用法: 一次性使用 特点:堵住一个下水道洞
植物特征:红色植物 平顶菇本想安安静静地晒晒阳光,却总是被人拿来修马路。它表示说"下水道下面可冷了"。
In English:

Flat-shrooms can only be planted on the sewer without a manhole cover, making it unable to release toxic steam for a while, and it can be destroyed by the zombies in the sewer.

Usage: single-use
Special: Blocks sewers
Plant feature: red plant

Flat-shroom wants to quietly bask in the sun, but is always used to repair the road. It says that "It's cold down in the sewers, man!"
Plant Food upgrade
When fed Plant Food, Flat-shroom launches 1-2 more Flat-shrooms onto any open sewers.
Strategies
Due to being bugged, it is recommended not to pick this plant at all in any circumstances. Although it is still viable in blocking transportation sewers, using defensive plants is still a much more reliable strategy. If you need help countering with toxic steam, use Lotus Root to absorb the steam instead.
Gallery
Trivia
Due to a coding error, Flat-shroom currently does not affect steam sewers upon being planted on an open steam sewer, yet will also be damaged by the steam.

Flat-shroom is also supposed to be unable to be eaten by zombies that are on the lawn and only by those exiting the transportational sewers.
Flat-shroom also occasionally fails to block some of the zombies from entering and exiting the transportational sewers.
However, if the Lotus Root absorbs the hazardous steam before planting, Flat-shroom will be able to block off the steam for a few seconds.

It resembles Doom-shroom in terms of appearance.
Even though it is straight in images, its seed packet shows it in the position that it is in when it is planted on a sewer.
When Flat-Shroom is dancing, its underside in the sewer is gone. It is unknown if this is a glitch.
It is currently the only Chinese-exclusive plant to be world-exclusive.