Fire Emblem Warriors: Three Hopes - The Loop
Play Sound



Flamewood is a conjectural name for this article.
If you know the official name or have a better name or
translation for it, please contact a wiki
administrator
to change it.
Flamewood (烈焰树桩; pinyin: lièyàn shùzhuāng) was a plant in Plants vs. Zombies: Social Edition. He was a premium plant that costed 300 sun. He functioned identically to Torchwood, but peas passing through him dealt triple the amount of damage.
Almanac entry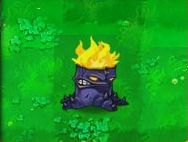 烈焰树桩
烈焰树桩可以把穿过他的豌豆变成烈焰
球,增加豌豆的伤害。
特点:让穿过他的烈焰球增加30点伤害。
烈焰球也会对附近僵尸造成溅射伤害
受人尊敬的火焰树桩因为吃了智慧树的果
实更加聪明了!而且他也认字了, 为了让植物们都知道自己的名字,他还改名为"烈焰树桩"。
In English: Flamewood

Flamewood can turn peas that pass through him into a flame ball, increasing the damage of the peas.
Special: increases damage by 30 points through his flameballs. Flameballs also deal splash damage to nearby zombies

This highly respected Torchwood became smarter by eating a fruit from the Tree of Wisdom! Even becoming literate. And in order to let the plants know who he was, he changed his name to "Flamewood".

Cost: 300
Recharge: fast
Gallery
Trivia
Despite having spikes, he deals no extra damage to zombies eating him.
Frozen peas passing through him became usual fire peas.
See also