Firefighter is a premium uncommon zombie card in Plants vs. Zombies Heroes and a member of the

Sneaky class. He costs 4

to play and has 4

/5

.
He has the Gravestone trait, and his ability gives another zombie on the field, excluding him, the Bounce effect when he is revealed. His closest plant counterpart is Rescue Radish.
Origins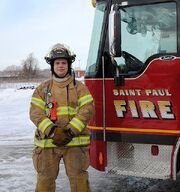 He is based on a firefighter, a rescuer extensively trained in firefighting, primarily to extinguish hazardous fires that threaten life, property, or the environment, as well as to peform specialized rescue tasks within the scenario of a disaster.
His description is a reference to how stereotypical firefighters rescue cats from trees.
Statistics
Class: Sneaky
Tribe: Professional Zombie
Trait: Gravestone
Ability: When revealed: Bounce another Zombie.
Set - Rarity: Premium - Uncommon
Card description
He's a little too eager to rescue kittens from trees.
Update history
Update 1.4.14
Rarity change: Rare → Uncommon
Strategies
With
Firefighter may seem like a great card at first glance due to his high stats and Gravestone trait, however, this latter trait actually comes with a huge downside that makes him downright unusable in most decks. While his ability may look good to reactivate zombie abilities or to clear a lane, this is actually very hindering for two reasons.
First of all, since Firefighter activates his ability during the Trick Phase, that means that you cannot replay the zombie you Bounced in the same turn unless you have a Teleport, giving you a huge tempo disadvantage that the opponent can use to do big damage to you.
And second of all, by Turn 4, it is very unlikely that you want a zombie to be Bounced, as you will probably have more expensive zombies that are a lot more useful to have on the field than to bounce and replay.
Because of all this, it is recommended not to put him in any competitive deck, as he will usually be more hindering than helpful. Secret Agent does a way better job at bouncing your own minions for a far cheaper price and even provides a huge stat boost to them, although it is in

Beastly rather than

Sneaky.
Against
You should not be scared of Firefighter's stats or ability, as he will not pose a major threat to your plants and he might even come in handy as he is forced to clear a lane right before the Fight! Phase, possibly freeing a lane so a plant of yours can hurt the Zombie Hero.
Instead of choosing to destroy Firefighter, you can take advantage of his ability to land a lot of damage to the Zombie Hero and end the game around those turns, but if that isn't an option, then you can choose to front him with weak minions while you use the more threatening ones with more dangerous zombies.
Gallery
Old
Trivia
During his idle animation, his firefighter hat catches fire once every 3 seconds. This is ironic, since firefighters put out fires.

His firefighter hat also catches fire when he is destroyed.
See also