Raise a Floppa - The Loop
Play Sound



Fire-shroom is a conjectural name for this article.
If you know the official name or have a better name or
translation for it, please contact a wiki
administrator
to change it.
Fire-shroom (火蘑菇; pinyin: huǒ mógū) was a plant in Plants vs. Zombies: Social Edition. It was a premium plant that cost 75 sun. Its ability was to deal heavy fire damage to zombies eating it.
Origins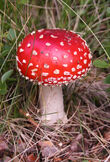 Judging by the color and shape of its cap, Fire-shroom seems to be based on the fly agaric (Amanita muscaria), a basidiomycete muscimol mushroom of the genus Amanita.
The "fire" in its name refers to the fact that it burns zombies with fire and the "shroom" in its name refers to the fact that it is a mushroom.
The way it damages zombies that eat it is likely based on the negative effects of eating the poisonous/psychoactive mushroom it is based on.
Almanac entry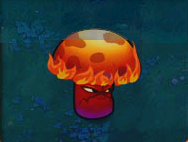 火蘑菇
火蘑菇能够使啃食他的僵尸由内而外的自燃。
伤害:巨大
范围:近距离接触
火蘑菇总是为自己的火焰感到反感,因为它们总是伤害到自己的朋友。所以为了朋友,火蘑菇到花园里找到了自己的归宿。
In English: Fire-shroom

Fire-shrooms heavily burn zombies that eat it.
Damage: heavy
Range: on contact

Fire-shrooms have always been disgusted with their flames, because they always burn their friends. So for their friends' sake, Fire-shrooms have made their homes in gardens.

Cost: 75
Recharge: slow
Gallery
Trivia
It was the only new premium plant to not be based on any particular plant.
It was the only Mushroom to have the whole phrase "蘑菇 (mushroom)" in its name, while all the other Mushrooms only have "菇 (-shroom)".