Prior to the 7.4 update, Far Future - Day 28 was the 28th day of Far Future. It is a Locked and Loaded level. Upon completing the level, the player receives a money bag.
As of the 7.4 update, level expansions were removed from the world maps and placed into epic quests. Because of this, this level is no longer accessible from the map, and must be accessed when the epic quest is available.
Difficulty
The usage of Tile Turnip and Starfruit are essential for winning. This level is jam packed full of the new Holo Head Zombie, which has a lot of health. Luckily, there is a lot of Plant Food distributed in this level, meaning there is enough firepower to defeat them if the proper strategy is set up. Sunflower's low sun production makes it difficult to get enough sun production early on. In addition, there are four flags, Robo-Cone Zombies, Jetpack Zombies, and a few Gargantuar Primes. Red Stinger and Starfruit can be used in conjunction with Tile Turnips for effective zombie control. Infi-nut is also essential to hold the fort down. Starfruit spam will be essential as they can attack other lanes. If you have three columns, it will make the level somewhat easier. Red Stinger can be used for additional damage as well as slowing down the zombies with its Plant Food ability.
Waves
The small number next to the zombie icon means that zombie will always appear in that lane, with 1 being the topmost lane and 5 being the bottommost one.
Waves
Non-dynamic zombies
Ambush zombies
Note(s)
1
None
Carries 1x Plant Food.
2
1 2 5 3
None
First flag.
Carries 1x Plant Food.
3
4 1
None
Carries 1x Plant Food.
4
3 5 4
None
Second flag.
Carries 1x Plant Food.
5
2 4 3 5
None
1x Plant Food available
6
2 1 3
None
Third flag.
Carries 1x Plant Food.
7
1 3 5
None
Carries 1x Plant Food.
8
1 5
None
Final wave.
strategies
This strategy was created by User:Pvzarif
You need at least a Level 2 Red Stinger, Infi-Nut, and Tile Tulip
Plant a Red Stinger where the first zombie comes, and place a Tile Tulip on Row 3, Column 3 and put an Infi-nut ontop of it.
Use the Plant Food you have and put it on the Infi-nut to provide good protection, now start planting a column of Red Stingers
Plant 2 Sunflowers on the most top and most bottem row on Column 3, then place Star Fruits on the empty tiles of Column 3. Your Force field might be weakening, but don't worry. Be sure to tile tulip the 2 Star Fruits on Column 3.
When the first wave comes, use a Plant Food on the Infi-nut and then it will trigger the Star Fruit Plant Food ability, clearing out some zombies
When the Force Field is destroyed(It should be after Wave 3, use another Plant Food to provide another Force Feild.
Plant Red Stingers before column 4 on the row where the Gargantuar Prime is, after the Force Feild is destroyed, use another Plant Food on the Infi-nut.
When the Final Wave comes, be sure to use Plant Food on the Infi-nut. Plant as much Red Stingers as you can when the Gargantuar Prime comes and use any Plant Food on the Purple tiles.
You successfully completed this level without losing mowers, :)
Gallery
Old
Walkthrough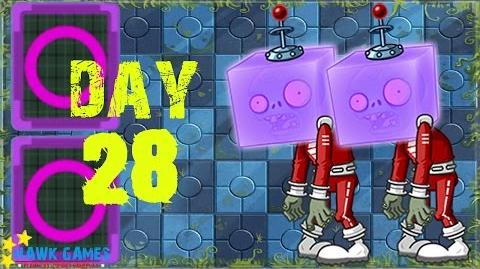 Trivia
This level originally gave the player Twin Sunflower and Lightning Reed in place of Sunflower and Red Stinger.

The level also originally had 5 flags.
*: Removed ~: Epic Quest
Community content is available under
CC-BY-SA
unless otherwise noted.