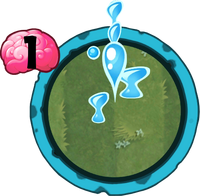 Evaporate is a super-rare zombie superpower trick card in Plants vs. Zombies Heroes and a member of the

Beastly class. It costs 1

to play, and its ability destroys a plant that has already taken damage beforehand and draws a card. This does not work if a plant has been weakened by certain health-degraders like Nibble.
Origins
It is based on the real meaning of evaporate, which is to turn from liquid to vapor.
Its ability is a reference to how plants die if they lack water.
Statistics
Class: Beastly
Tribe: Superpower Trick
Abilities: Destroy a damaged Plant. Draw a card.
Rarity: Super-Rare
Card description
Did you know that Plants are 62 percent water? Well, not any more.
Update history
Update 1.2.12
Strategies
With
Evaporate functions a bit like the
Deadly trait on the fact that it destroys a damaged plant, but you can choose which plant you want to destroy. Like Deadly, no matter how much health a plant has, Evaporate will destroy it instantly. Note that you cannot use this trick when there are no damaged plants, so beware.
As Electric Boogaloo, you can use Bungee Plumber followed by Evaporate in order to easily remove a plant from the field, only at the cost of 2

. Though, it is a better choice to conserve both for later, unless destroying said plant is necessary, as you can easily defeat the strongest of plants at a cheap cost later on.
Take note that health-degraders like Nibble or Pied Piper do not count towards enabling this trick, so be aware that you cannot use these combos.
Against
The best counter against Evaporate would be to give your plants the

Untrickable trait via Umbrella Leaf. As for heroes without Umbrella Leaf,

Solar heroes can heal it back to full with 2nd-Best Taco of All Time, Geyser, or Aloesaurus, although Aloesaurus heals very little. However, there is nothing you can do if your opponent does damage to it during the Zombie Tricks phase. Alternatively, playing a lot of threats should force your opponent into deciding which plant needs to be eliminated the most. Another alternative is to increase its cost with cards such as Forget-Me-Nuts or Dark Matter Dragonfruit.
Gallery
Old
Community content is available under
CC-BY-SA
unless otherwise noted.