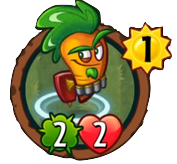 Ensign Uproot is a super-rare plant superpower card in Plants vs. Zombies Heroes and a member of the

Guardian class. He costs 1

to play and has 2

/2

. He does not have any traits, and his ability moves a selected plant or zombie, excluding him, onto a selected lane when he is played.
Origins
His name is based on the meaning of "uproot," to move someone out of their home or a familiar location, which is a reference to his ability. It is also a play on his root tribe.
His description and ability animation are plays on the word "tractor" in "tractor beam," as the tractor is an engineering vehicle used in agriculture.
Statistics
Class: Guardian
Tribes: Root Superpower Plant
Traits: None
Ability: When played: Move another Plant or Zombie.
Rarity: Super-Rare
Card description
His mighty tractor beam is straight off the farm and out of this world.
Update history
Update 1.16.10
Strategies
With
On top of his decent stats, Ensign Uproot's ability can be rather useful, as you have control to move one of your plants or a zombie. Simple ways to use this is moving an Amphibious zombie out of the water or moving zombies like Arm Wrestler or other zombies onto lanes where they can be destroyed, such as a lane with Spikeweed Sector on it. You can also use this to move a vital plant into a lane that is guarded well.
If he is given from a Super-Block during combat, you can use him to move a powerful plant that has already attacked onto another lane to the right so that it can attack again.
The only downside of him is that he can only be played once, due to being a superpower plant. Since Beta-Carrotina leads the

Smarty class, however, she can use Rescue Radish to Bounce him and activate his ability again.
Against
By himself, he is just a 2

/2

plant with no traits. However, his ability is dangerous as he can move any plant or zombie into areas that can help Beta-Carrotina. Try to have at least two or more dangerous zombies so she has to think twice before using this superpower.
Gallery
Trivia
If you look closely, he seems to use the same jet pack as Beta-Carrotina.
He is the only card in the game that can move both plants and zombies.
Community content is available under
CC-BY-SA
unless otherwise noted.