New Pokemon Games - The Loop
Play Sound

Enlightened is an unlockable achievement on iOS, PlayStation Vita, and Android versions of Plants vs. Zombies. In order to unlock it, the player must obtain every Zen Garden plant.
Strategies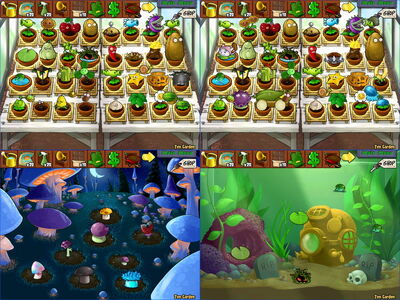 This achievement is hard and very luck-based, as you need to collect all 39 plants in the Zen Garden (excluding the Flower Pot, Imitater, and Upgrade plants), plants dropped by zombies are rare. Try to repeat Adventure Mode as much as you can.
Another way to get the achievement is to buy Marigolds from Crazy Dave's Twiddydinkies and use the Zen Garden Editor until you have all the plants.
You can also buy mystery sprouts from Crazy Dave's shop, preferably the ones that cost the most, as they have the highest chance of getting a plant you don't have yet.
All the plants need to be in your Zen Garden at the same time to unlock this achievement.
You can also use a user file editor to make your Zen Garden complete.
Tips
Trivia
The fact that the achievement is called "Enlightened" implies that once one has collected all of the plants for the Zen Garden, they will have achieved a form of Zen enlightenment (considered the ultimate goal in Zen teachings).
In the iOS Game Center, this is the achievement that gives the player the most points, which is 40 points.
See also
* means the achievement is PC-exclusive.
** means the achievement is handheld-exclusive.
*** means the achievement no longer exists.