Arcane: League of Legends - The Loop
Play Sound


For other uses, see Endurian (disambiguation).
Endurian (榴莲; pinyin: liúlián) was a plant in Plants vs. Zombies Online. It was similar to Wall-nut, but it attacked zombies with its spikes when the zombies were eating it.
Origins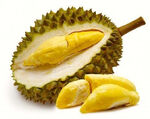 Endurian is based on the Durian fruit, a term for a group of fruits of plants belonging to the genus Durio, characterized by their thorn-covered husk and distinctive flesh odour.
His name is portmanteau of "endure," reflecting its defensive ability to endure zombie attacks and "durian," the real-life plant this plant is based on.
Almanac
榴莲
升级版坚果,被攻击时会用尖刺进行反击
技能: 自己爆炸,秒杀3*3范围内的僵尸
消耗阳光: 135
伤害: 中等
冷却时间: 中等
In English: Durian

An upgraded version of Wall-nut, will use its spikes to fend itself when attacked.
Skills: Self detonates, damaging all zombies in a 3x3 area.
Sun cost: 135

Damage: Moderate
Recharge: Moderate
Plant Food effect
When fed Plant Food, Endurian exploded and dealt damage to all zombies in a 3x3 area around it.
Strategies
Endurian is a defensive/offensive plant that should be handled with a lot of care.
Leave it in the front columns, and plant strong damaging plants like Dandelion and Bruce Bamboo in the back, maybe Spikeweed in front, but always hesitate on using Plant Food; it can be useful, but needs positioning, timing, and a good situation to use. Avoid treating this like a Wall-nut in terms of Plant Food, or you will waste 135 sun. You should try to use this plant as a support, and not as a primary offensive plant, since it can attack only when close to zombie and can be eaten up.
Gallery
Trivia
It was the only plant in the entire franchise to not have a multiple of 25 as its sun cost.
See also