Elderberry is a colossal rare plant card in Plants vs. Zombies Heroes and a member of the 

Solar class. He costs 4

to play and has 2

/4

. He has the

Strikethrough trait, and his Plant Evolution ability gives him +3

.
Origin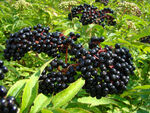 He is based on the Sambucus, commonly called elder or elderberry.
His appearance is a visual pun on the word "elder" in his name, as Elderberry looks like an old man due to the wrinkles and beard while also holding a staff which is used as a cane.
Statistics
Class: Solar
Tribes: Flower Berry Plant
Trait: Strikethrough
Ability: Plant Evolution: This gets +3.
Set - Rarity: Colossal - Rare
Card description
He makes yelling "Get off my lawn" into an art form.
Update history
Update 1.22.12
Strategies
With
Elderberry can be a very powerful plant when evolved, which can turn him into an instant threat at turn 4, or even an earlier turn than that if you manage to make more sun via cards such as Sunflower and Solar Winds.
Remember that Elderberry is a flower plant, meaning that he can synergize with Power Flower and Briar Rose. Since he is also a berry, he is able to synergize with Sergeant Strongberry, Strawberrian and High-Voltage Currant, though only Solar Flare can do this normally.
Due to the fact that he is a berry, Squirrel Herder is a huge threat to him, as she may destroy him instantly.
Elderberry is reccommended to be evolved from very cheap plants, or free plants at best, like Lil' Buddy or Puff-Shroom, to allow the plants to easily have a major threat on the board.
Against
This plant can be a huge threat if evolved, with 5

/4

and

Strikethrough. When evolved, taking him down before he can attack is highly recommended, since he can potentially take a large chunk of your health away once he attacks. If he is not evolved, however, Elderberry can be easily destroyed with Rolling Stone, Weed Spray, or Celestial Custodian played in an environment.

Brainy heroes can easily destroy Elderberry with Rocket Science if he is evolved, or Cut Down to Size in the case of Super Brainz and Rustbolt.

Sneaky heroes can use

Deadly zombies to take down Elderberry, although this still allows Elderberry to attack and possibly land devastating damage on your hero. To further assist this strategy, use bonus attack cards such as Lurch for Lunch as either Super Brainz or Huge-Gigantacus (unless Wing-Nut is on the field), or

Freezing cards such as Frosty Mustache to prevent him from attacking.

Crazy heroes can use Cakesplosion or Final Mission, which do enough damage to remove Elderberry in one hit.
Squirrel Herder is also the perfect solution, as she can destroy Elderberry since he is a berry plant. Due to her Gravestone trait, Wall-Knight can play Grave Buster and Blockbuster, while Rose can play Spyris, Cool Bean + Winter Squash and Grave Mistake, so keep that in mind.
Gallery
Old
In other languages
| Language | Name | Description |
| --- | --- | --- |
| English | Elderberry | |
| Simplified Chinese | 长老莓 | "Elder Berry" |
| Traditional Chinese | 莓長者 | "Berry Elderly |