This article is under construction and requires more content. You can help our wiki by
expanding it
.
"

His bark is worse than his bite!

"

—Dreadwood Splash Screen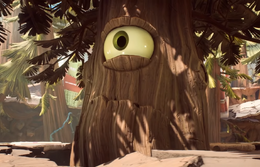 Dreadwood is a Plant Boss in Plants vs. Zombies: Battle for Neighborville, and the final boss of Weirding Woods. He is fought at The Heartwood, a place filled with Dreadroots.
To start the battle the player first has to navigate through an abandoned trainyard where winds will blow. The player must wait until they stop blowing, and then head on either side and duck inside a gap between two trains before it starts blowing again. Once it stops blowing again, head for the gap between the next two trains. Then repeat until you make it into the next area. Then the player must activate one of the machines nearby to power a nearby fan, which will boost you onto the platform where Dreadwood is sleeping. The player needs to attack his weak point located somewhere on his body - a glowing heart, the same as the ones on the vines covering secret areas - which will wake up Dreadwood and the battle will commence.
Attacks
Fires massive orange projectiles at a random player similar to the Oak's Super Sap Trap ability.

He either fires a ton of these projectiles, or fires only 3 projectiles.

Does a much more powerful version of a wood beam, which is the main attack for Dreadroots
Blows at a random player in attempts to knock them off of the platform.
Grows out two roots and spins them around which can knock the player around, and even off the platform if they are not careful.
Spawns Weeds and Wildflowers, and in later phases Peashooters and Acorns.
Strategies
The main thing you need to know about Dreadwood is that his attacks are very dangerous, and it is best that you seek out cover at all times behind the various barriers on the platform. When he begins his root spinning phase, jump when his arms come get near you so you are not knocked off into the swamp below. Plants usually jump over the roots so take them out before that phase if possible or you will have to deal with them and jump over the roots at the same time which can be really stressful. His root spinning phase is fairly easy to dodge, as all of the characters can sprint. Avoid being Z-Mech or Space Station, as they cannot sprint and are poor at jumping. Be aware that in later phases that after spinning his roots he will pause before spinning them in the opposite direction so don't let that catch you off-guard. Try your best to aim Dreadwood's eye, as it is its only weak point. If you can get a perfect hit with powerful abilities such as ZPG, it can deal a lot of damage. A good idea is playing as an All-Star so that you can defeat him quickly.
Related achievement
Gallery
Trivia
According to Peg Legpuller, Dreadwood has a twin brother named Fredwood.