No Man's Sky Update - The Loop
Play Sound
This article is under construction and requires more content. You can help our wiki by
expanding it
.
For other uses, see Dr. Zomboss (disambiguation).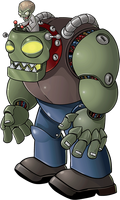 Dr. Edgar George Zomboss, or simply Dr. Zomboss, is a major recurring character within the Plants vs. Zombies franchise. He is the main antagonist who leads all zombies to attack the player's and Crazy Dave's house.
As of Plants vs. Zombies 3, Dr. Zomboss has appeared in six games, with similar zombies appearing in other games.
History
Main article: Dr. Zomboss (PvZ)

In the original Plants vs. Zombies, as well as Plants vs. Zombies: Journey to the West, Dr. Zomboss is the final boss that player faces. Controlling his Zombot, the player faces him in level 5-10.
Dr. Zomboss will create either a fireball or an ice ball to crush the plants. He can also crush an area of plants by throwing a van and remove the plants by summoning 3 Bungee Zombies. When defeated, his robot is destroyed and the player will have officially beaten Adventure Mode.
In the Chinese spinoff game Plants vs. Zombies: Great Wall Edition, Dr. Zomboss is replaced with Emperor Zombot. However, despite the large visual differences along with the lack of a pilot, Emperor Zombot functions exactly like Dr. Zomboss himself, apart from the fact he can appear in the game's unique version of Survival: Endless.
Main article: Dr. Zomboss (PvZ2)

Dr. Zomboss makes a return in Plants vs. Zombies 2 and its Chinese version, continuing to obstruct the player, Crazy Dave, and Penny's adventure.
Apart from the Chinese-exclusive Kongfu World, Dr. Zomboss appears as a boss in every world, in a unique Zombot themed around the corresponding world each time.
Main article: Dr. Zomboss (PvZ: GW)
Main article:

Dr. Zomboss (PvZO)
Dr. Zomboss also appeared in Plants vs. Zombies Online, appearing in the game's Adventure Mode.
Main article:

Dr. Zomboss (PvZH)
At the start of the game, Dr. Zomboss appeared in a sudden attack and created Zombie Heroes.

However, he accidentally destroyed his Zombot and created Plant Heroes too.
He and his Zombots appear as cameos in the game, despite he himself never participating in the battles.
Main article: Dr. Zomboss (PvZ3)

Gallery
Plants vs. Zombies Wiki
has a
gallery
for Dr. Zomboss.
Trivia
Dr. Zomboss is the only zombie that uses proper grammar.
Dr. Zomboss has a degree in thanatology; the study of death and the emotions surrounding it. This further shows his intelligence as opposed to other zombies.
In the comic Plants vs. Zombies: Bully For You, it is revealed that Dr. Zomboss has a pet goldfish bowl named "Ziggy". This is because that his pet goldfish kept running away so he now just has a pet goldfish bowl. According to him, it is simpler.

In the comics, he is shown to also have a pet hedgehog named Mr. Stubbins.

However, Mr. Stubbins' original owner is one of Dr. Zomboss' rivals of Bully for You, though this changed at the end of the comic.

Some of the descriptions in Plants vs. Zombies: Garden Warfare and its sequel reveal some part of Zomboss's personal life.

He once lost a battle against a tennis ball machine according to Tennis Star's Stickerbook description.
When the player talks to Grumpy Stumpy, he reveals that Zomboss is a good cook.
He owns a company named Zomboss Inc. However, it is unknown what this company does.

In Plants vs. Zombies Heroes, when unlocking Professor Brainstorm, a comic strip shows that he was once a judge in a science fair.
According to some Wiz Factz signs in the Seeds of Time map, Dr. Zomboss was born in the Year of The Naked Mole Rat.
He is one of the few zombies that smile, the others being Imp, Jack-in-the-Box Zombie and Money Bag Zombie. However, these are all manic smiles.
When you defeat Dr. Zomboss in the original game, he makes the same death sound as Gargantuar.
In Plants vs. Zombies: Garden Warfare, the original Zombot makes a cameo. In one of the stages, the player can see the Zombot's head lying on the ground.
Dr. Zomboss keeps a swear jar, as seen in the Garden Warfare comics.
According to the comic Boom Boom Mushroom, Zomboss is allergic to 74.000 different plants, including Chompers, Peashooters, Cacti and Wall-nuts.
He was voiced by Russell Brand, who also voiced Dr. Nefario from the Despicable Me franchise and Creek from Trolls. [1][2]
In PvZ2, when the player defeats Zomboss in any map except for Neon Mixtape Tour due to completing a level there plays its victory theme, there's a high chance that the victory theme of Neon Mixtape Tour plays.

Somehow, it does not block the Zomboss Battle Victory Theme.
References
V ·

T

· E

Recurring characters