Plants vs Zombies: Tips for taking down Dr. Zomboss
Play Sound

Dr. Edgar George Zomboss (known as Dr. Zomboss or Dr. Edgar Zomboss) is a zombie, the main antagonist and the leader of the zombie horde in the Plants vs. Zombies series. He is battled on the Night Roof during Level 5-10 as the final boss in Plants vs. Zombies and appears multiple times as a themed boss for each world in Plants vs. Zombies 2.
Origins
The name Zomboss is a portmanteau of the words "Zombie" and "Boss", meaning "Zombie Boss", while Zombot is the portmanteau of the words "Zombie" and "Robot", meaning "Zombie Robot". According to an interview with George Fan, Dr. Zomboss' middle name "George" was not intended to be named after him, and was only accepted since "it sounded like a great middle name for a zombie overlord boss character."
Personality
Dr. Zomboss is an intelligent and evil being, able to construct several powerful machines and to deploy a mass array of zombies in order to thwart Crazy Dave, the players, and their botanical arsenal. He is destructive and ruthless, as depicted in Plants vs. Zombies, where he will send a giant fireball or an iceball against anything in his way. This was heightened in Plants vs. Zombies 2, in which his creations destroy his own minions; however, he does not seem to feel any regret for these actions.
Dr. Zomboss also shows no concern or remorse toward his enemies per Plants vs. Zombies 2. He sends down many of his henchmen even on lanes where absences of lawn mowers are imminent. He is also arrogant, mocking Crazy Dave most of the time and using profane or vulgar words whenever conversing with him.
Dr. Zomboss is also a smart strategist. He holds a lot of backup plans to fill in should one of his machines malfunction and should the Gargantuars that he stationed to protect the world keys fall.
He has also shown to be deceitful per Plants vs. Zombies 2, able to plague Penny's thoughts when Dr. Zomboss remarked that Crazy Dave constructed Penny from decommissioned parts of Dr. Zomboss' past creations in Pirate Seas - Day 25. Some time later on Wild West - Day 25, he deceived the player and Crazy Dave, by saying that the zombies are just helping out as normal residences of the west. Furthermore, he also remarked that the zombie apocalypse is just a mere illusion. He also used deception on Far Future - Day 25 to persuade the player that they are being misled by Crazy Dave, only to be followed by a hypnosis. This only ended on Dark Ages - Night 20 when he said that Plant Food is made from zombies. Some time after the battle, he was foiled out by Penny, revealing that there are no zombies or any other evil substances circulating within Plant Food's nutrition facts.
Overall, his main goal is to persuade Crazy Dave to quit his journey in search for taco, to submit to his will, and to let his and the player's brains be consumed.
Audio
Plants vs. Zombies
| Sound | Description |
| --- | --- |
| | The explosion of Zombot. |
Plants vs. Zombies 2
Battles
The battles with Dr. Zomboss are set in the Night Roof level, probably so that Coffee Beans would not need to come in order to wake up the Ice-shrooms (which could be troublesome for dealing with the fire). He is the second-to-last zombie encountered in Adventure Mode.
He sends out other zombies to attack. The only Zombies he does not send are Flag Zombies (there are no waves in this battle, as it does not end until the Zombot is destroyed), Dancing Zombies, Backup Dancers, Digger Zombies (all of these three either appear underground or summon other enemies from underground), Balloon Zombies (Cacti do not appear on the conveyor, as they are straight-shooting plants), aquatic zombies (there is no water on the roof), Zombie Yetis (simply due to their exclusivity) Zombie Bobsled Team (despite ice trails from Zombonis. However, they probably do not appear because the Zombot can only place one zombie at a time, and the Bobsled Team consists of four at a time) and the Giga-Gargantuar[1] (for Survival Endless only) The Zombot also has its own attacks, most importantly fireballs and iceballs which are released from its mouth when it bends down which is the only time when it can be damaged. They both deal lane damage and even crush Roof Cleaners. The Zombot also drops Bungee Zombies (to do single tile damage), and campers, and also stomps at plants near it (which inspired the Zombot Stomp from Plants vs. Zombies Heroes). The boss battle itself is a conveyor-belt level, so seed packets come on the conveyor belt at the top (or left) of the screen. The only seed packets that can appear are Flower Pot, Cabbage-pult, Kernel-pult, Melon-pult, Jalapeno, and Ice-shroom. Jalapenos and Ice-shrooms are the most effective. The Jalapeno can be used to cut-off the effect of the iceball and ice trail from Zomboni, while the Ice-shroom is effective against the fireball, aside from their regular uses against zombies.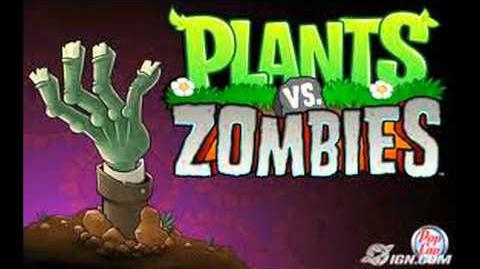 Dr. Zomboss returns in Plants vs. Zombies 2 as the final boss of each world. He also appears at the end of each world's epic quest. Although the original Zombot does not return, he has plenty of other zombots to wreak havoc in the game. Each Zombot has its own exclusive attack, but all of them have both a single tile attack and a single or double lane clearing or damaging attack (the Zombot Sphinx-inator, Zombot Plank Walker, Zombot War Wagon, and Zombot Tomorrow-tron charge through two lanes and shoot missiles, the Zombot Dark Dragon breaths fire that clears two lanes and shoots fireballs and Imp Dragon Zombies, the Zombot Sharktronic Sub sucks up two whole lanes of plants and summons sharks, the Zombot Tuskmaster 10,000 BC blasts chilling winds and flings ice, the Zombot Aerostatic Gondola drops bags of sand on flame trap tiles and summons Lost Pilot Zombies, the Zombot Multi-stage Masher drops speakers that blast shockwaves and the Zombot Dinotronic Mechasaur shoots missiles and lasers that clear two lanes).
Suburban Almanac entry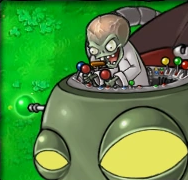 Dr. Zomboss
Dr. Zomboss rules them all.
Toughness (in Zombot shell): extreme
Edgar George Zomboss achieved his Doctorate in Thanatology in only two years. Quickly mastering thanatological technology, he built his fearsome Zombot and set about establishing absolute dominance within his local subdivision.
Overview
When playing Adventure Mode for the first time, Dr. Zomboss approximately absorbs 40000 damage per shot and his appearance changes upon absorbing 8000 damage per shot and at 20000 damage per shot. Dr. Zomboss suffers an explosion at 36000 damage per shot before surrendering at 40000 damage per shot.
Every other playthrough of Adventure Mode, and in Dr. Zomboss's Revenge, Dr. Zomboss has 150% his health, and absorbs 60000 damage per shot, and his appearance changes upon absorbing 12000 damage per shot and at 30000 damage per shot. Dr. Zomboss suffers an explosion at 54000 damage per shot before surrendering at 60000 damage per shot.
Attacks
Dr. Zomboss will randomly do one of the following actions:
Strategies
Related Achievement
Gallery
Plants vs. Zombies Wiki
has a
gallery
for Dr. Zomboss.
Trivia
General