Raise a Floppa - The Loop
Play Sound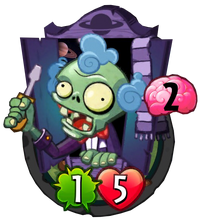 Dr. Spacetime is a galactic super-rare zombie card in Plants vs. Zombies Heroes and a member of the

Sneaky class. He costs 2

to play and has 1

/5

. He does not have any traits, and his ability reduces the cost of all Conjured zombie cards by 1

and Conjures a random zombie card from the Galactic Gardens set every time he does damage to the plant hero. This ability stacks with each Dr. Spacetime on the field and persists until all Dr. Spacetimes are removed from the field. His closest plant counterpart is Captain Cucumber.
Origins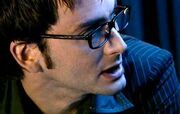 He is based on The Doctor, the title character of the British science-fiction series Doctor Who
The wardrobe he is in is a reference to The Doctor's TARDIS (when disguised as a dresser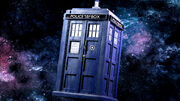 By the chameleon circuit ), while his screwdriver is a reference to The Doctor's sonic screwdriver.
The scarf hanging on the left (right from the player's view) wardrobe door may be a reference to the Fourth Doctor from the aforementioned series, who wears a scarf. He also wears a bow tie, a staple of the Second and Eleventh Doctors' respective outfits.
Although in his card image, he wears Glasses, this may be a reference to the Tenth Doctor who wore in episodes such as "tooth and claw"
Statistics
Class: Sneaky
Tribes: Science History Zombie
Traits: None
Abilities: Cards you Conjure cost 1 less. When this hurts the Plant Hero, Conjure a Galactic Gardens card.
Set - Rarity: Galactic - Super-Rare
Card description
He insists it's more than a screwdriver. Much more.
Strategies
With
Dr. Spacetime has very low strength for his cost, which sets him off on a bad start, since he cannot apply any pressure without the assistance of external buffs. His ability does not compensate for this, being completely reliant on RNG to work. His passive ability does nothing to benefit a competent gameplan either, since it only encourages further RNG. The only way you could use this card even remotely competently is by using a deck that is all conjure, which of course, is not a good strategy since it is fully reliant on RNG to conjure something that will win you the game. Even if you were to rely on his ability, he has to hurt the plant hero in the earlier turns a couple of times, which is outright unreliable. Therefore, he's better off in joke decks.
While you can buff him using things like Zombot Drone Engineer, Smoke Bomb, and Graveyard to make him more threatening, it's almost always better to use these cards on something better, such as Monkey Smuggler, Space Cowboy, Quickdraw Con Man or Line Dancing Zombie, as they already apply significant pressure that increases more with those cards.
Against
Because of Dr. Spacetime's low strength, you can use it to charge your own block meter with low risk by allowing him to hit your Hero. Speaking of low risk, it may seem like a bad idea at first, but the reward for using Dr. Spacetime as Zombies is almost never high enough to justify charging your block meter and losing stats on turn 2. His high health may seem like another problem, but you can just avoid his lane or use high attack plants if you really need to.
If you really need to stop him from conjuring any cards, you either use any cards that reduce strength, or cards with the armoured trait, since his health is too high to be easily countered on turn 2. For the former, Kernel-Pult or Weed Whack do the trick. For the latter, Jugger-Nut is your best option. Again, unrecommended since previously said, his low damage can be used to charge your own Block-Meter.
Gallery
In other languages
| Language | Name | Description |
| --- | --- | --- |
| English | Dr. Spacetime | |
| Simplified Chinese | 时空博士 | "Spacetime Doctor" |
| Traditional Chinese | 太空時間博士 | "Outer Space Time Doctor" |
| French | Dr Espace-temps | |
| German | Dr. Raumzeit | |
| Italian | Dott. Spaziotempo | |
| Japanese | Dr.スペースタイム | |
| Korean | 스페이스타임 박사 | |
| Brazilian Portuguese | Dr. Espaço-tempo | |
| Russian | Доктор Космос | |
| Spanish | Dr. Espacio-tiempo | |
Trivia
On his card, he is seen wearing Pogo Bouncer's glasses. However, he doesn't wear these in-game.
If the player looks closely, they can see Saturn and the sun inside his wardrobe, in the same positions they are seen in when Eureka is played.
If one looks closely when his ability is activated, the scarf hanging from the door disappears.
He, along with Teleportation Zombie has the highest health out of all zombies that cost 2 brains.
See also