New Pokemon Games - The Loop
Play Sound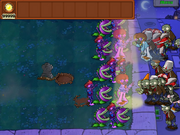 Disco is Undead is an achievement that can be obtained on the iOS, Android, and Steam versions of Plants vs. Zombies. It is worth five points on Game Center. It requires the player to hypnotize a Dancing Zombie using a Hypno-shroom and the requirements are the same as the two achievements Walk This Way and Thrilling the Zombies.
Strategies
Try to be careful because you might hypnotize the front or back Backup Dancer instead. When the wave approaches, get a Hypno-shroom ready. When it arrives, plant the mushroom directly in front of the Dancing Zombie. Hypnotizing him on the first column won't count because he won't have time to summon Backup Dancers. This achievement is the easiest to get on Level 2-8, where you first encounter Dancing Zombie. When deploying the Hypno-shroom, it would be helpful to plant it in the same square the lead Dancing Zombie is in. This achievement is hard to get with large groups of zombies because you might accidentally hypnotize a different zombie as the Dancing Zombie is slower than most zombies, making it a bit harder. Jalapeno and Garlic would be useful to get this achievement, although you would need Imitater Jalapeno to make the strategy work.
With some luck, this can be done easily in the Third Vase level of Vasebreaker.
Trivia
Video walkthrough
See also
* means the achievement is PC-exclusive.
** means the achievement is handheld-exclusive.
*** means the achievement no longer exists.