Raise a Floppa - The Loop
Play Sound

Dinonip (龙吼草; pinyin: lóng hǒu cǎo) is a plant from the Chinese version of Plants vs. Zombies 2. He was added in the 2.0 update. He is obtainable through collecting enough Puzzle Pieces from the Endless Zone medals. He eats zombies, similar to Chomper.
However, unlike Chomper, he can defend himself by firing a weak, short-ranged goo while chewing, has higher health, and spits out the eggs he swallows.
Origins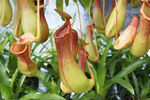 Dinonip is based on the bellyful pitcher plant (Nepenthes ventrata), a tropical pitcher plant natural hybrid of the ventricose pitcher plant (Nepenthes ventricosa) and the winged pitcher plant (Nepenthes alata), the plant's specific name "ventrata" (meaning "bellyful") most likely reflects Dinonip's ability to eat zombies. He is also based on a generic theropod dinosaur like Tyrannosaurus.
Dinonip's name is a pun of "dinosaur", the group of prehistoric animals he resembles and affects; and "nip", referring his ability to eat zombies.
His ability to fire goo is a nod to a digestive liquid real-life pitcher plants have to digest their prey, e.g. insects.
Almanac entry
龙吼草

Dinonip

龙吼草能把靠近的僵尸吃掉,并吐掉无法消化的恐龙蛋。

植物特征:绿色植物,铁齿铜牙

特点:吃掉美味的僵尸,吐掉难吃的恐龙蛋


龙吼草自小就嗓门大,所以在高中的时候就参加了学校的合唱团。然而过了没多久,他就因"种种原因"选择了退出。"我还是觉得他适合独唱,"喇叭花评价说,"毕竟对于合唱团来说,他一个人需要的安全距离也太大了些 ……"
龙吼草 (Dinonip)
Sun cost: 75
AREA: Single
RANGE: Close
RECHARGE: Sluggish
龙吼草能把靠近的僵尸吃掉,并吐掉无法消化的恐龙蛋。
植物特征:绿色植物,铁齿铜牙
特点:吃掉美味的僵尸,吐掉难吃的恐龙蛋

龙吼草自小就嗓门大,所以在高中的时候就参加了学校的合唱团。然而过了没多久,他就因"种种原因"选择了退出。"我还是觉得他适合独唱,"喇叭花评价说,"毕竟对于合唱团来说,他一个人需要的安全距离也太大了些 ……"
In English:

Dinonip can eat nearby zombies and spit out undigested eggs.

Plant features: Green plant, strong teeth
Special: Eats delicious zombies, spits out awfully-tasting dinosaur eggs

Since young, Dinonip has had a loud voice, so when he entered senior high, he joined the choir. But after a short while, he quit because of "various reasons". "I still feel he's better doing a solo," MC Glory commented, "After all, for a choir, the 'safe range' he needs is a bit too large..."
Upgrades
Plant Food effect
When given Plant Food, Dinonip will roar to counter the dinosaur stampede in Jurassic Marsh, and will eat 4 zombies in a 3x3 area.
Costumed
His roar can now push back zombies in a very short distance and stun them for a short period of time.
Level upgrades
Level
Upgrades
Description

Venom Overflow
毒液溢出
May shoot a stronger goo that deals more damage.

Combat Training
战斗训练
Dinonip gains 50% more attack power and health (150% of initial).

Overflow Enhancement
溢出增强
Chance to shoot stronger goo increases.

Cell Activation
细胞活化
Dinonip gains another 50% more attack power and health (200% of initial).

Ability Awaken
能力觉醒
Dinonip may be boosted when planted.

Fighting Power
战斗能力
Dinonip gains another 50% more attack power and health (250% of initial).

Venom Burst
毒液迸發
May shoot a stream of venom that damages the whole lane, plus poisons zombies.

Fighting Power
战斗能力
Dinonip gains another 50% more attack power and health (300% of initial).
Strategies
In general, he is a worse option than Chomper as he has a slow seed packet recharge, meaning it is impossible to simply dig a Dinonip who is eating a zombie and then replace another one quickly, which can be done by Chomper.
He is however, extremely important in Jurassic Marsh due to his Plant Food being the only way to prevent dinosaur stampedes from T. Rex eggs destroying a lot of plants.
One of his most important abilities is to eat eggs. Even at level 1, a single Dinonip will instantly destroy an egg. If you do not have enough Puzzle Pieces to upgrade him into level 2 or above, it is not recommended to use him in Hard Mode outside Jurassic Marsh, because he cannot eat a level 2 or above zombies instantly, unlike Toadstool.
Gallery
Trivia
He is the only way to stop Dinosaur Stampedes, making him an environment modifier.
Dinonip makes the same sound that Chomper does once he bites a zombie.
He, Thorns, and Perfume-shroom are the only plants whose abilities affect the dinosaurs.
See also