Raise a Floppa - The Loop
Play Sound
Not to be confused with Heartichoke.
"

Dartichokes aim first at high-priority targets like Wizards and Octo Zombies.

"
Dartichoke is a premium plant in Plants vs. Zombies 2, that was first introduced in the 7.9.1 update. She[1] fires high damaging spines (every 1.7 - 2 seconds) at high priority targets.
About
Dartichoke costs 225 sun and her ability allows her to fire artichoke spines at zombies in her lane, however she can only fire a limited amount and needs to recharge after firing the max amount of spines. She also has a chance to fire a critical dart which deals more damage.
It takes 3.25 (8 in Chinese version) seconds to reload her darts without leveling up. Her darts do not target grid items such as tombstones. Dartichoke can be unlocked for 250 seed packets.
Dartichoke's spines prioritizes certain zombies in a similar manner to Witch Hazel prioritizing Wizard Zombies, these zombies are (priority targets):
Dartichoke will also prioritize certain zombies that aren't listed on her Almanac entry, these zombies are (secondary targets):
In the Chinese version, Dartichoke will also prioritize these zombies:
Origins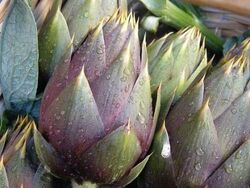 She is based on a spiny artichoke, more commonly known as an artichoke, a variety of a species of thistle cultivated as a food.
Her name is a portmanteau of "dart," referring to the projectiles that she fires, and "artichoke," the real-life plant she is based on.
Almanac entry
Note: The stats shown below only apply to Level 1.
Dartichoke

SUN COST: 225
RECHARGE: 8.5

TOUGHNESS: 300
DAMAGE: 75

Special: Critical Damage
Special: 0.3

Dartichokes fire high-damage darts down the lane, prioritizing especially dangerous zombies such as Wizards, Octo Zombies and Healers.
Upgrades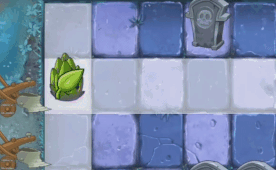 Plant Food effect
When given Plant Food, she spins and shoots blue darts that deal critical damage to a multitude of zombies on the lawn, in a similar matter to Homing Thistle's Plant Food effect.
Spear-mint effect
When boosted by Spear-mint, Dartichoke will receive an additional 210 DPS to her main attack along with an additional 630 DPS to her critical darts and Plant Food darts, and the chance to fire a critical dart will increase to 75%.
Level Upgrades
Level
Seed Packets
Coins
Upgrades
Sun Cost
Recharge
Starting
Recharge
Toughness
Damage
Projectile Velocity
Plant Food
Power Damage
Critical
Chance
Max Shots
Cooldown Time*
Normal
Critical
Normal
Critical
1
0
0
225
8.5 seconds
6 seconds
300 dps
75 dps
225 dps
Normal
Normal
225 dps
30%
6 shots
3.25 seconds
2
50
8 seconds
5.75 seconds
350 dps
90 dps
270 dps
+1.03x
+1.03x
270 dps
35%
7 shots
3 seconds
3
100
7.5 seconds
5.5 seconds
400 dps
105 dps
315 dps
+1.07x
+1.06x
315 dps
40%
8 shots
2.75 seconds
4
200
7 seconds
5.25 seconds
450 dps
120 dps
360 dps
+1.1x
+1.09x
360 dps
45%
9 shots
2.5 seconds
5
300
200
6.5 seconds
5 seconds
550 dps
135 dps
405 dps
+1.13x
+1.12x
405 dps
50%
9 shots
2.25 seconds
6
400
6 seconds
4.75 seconds
600 dps
150 dps
450 dps
+1.17x
+1.15x
450 dps
55%
10 shots
2 seconds
7
500
5.5 seconds
4.5 seconds
650 dps
165 dps
495 dps
+1.2x
+1.18x
495 dps
60%
10 shots
1.75 seconds
8
600
175
5 seconds
4.25 seconds
700 dps
180 dps
540 dps
+1.23x
+1.21x
540 dps
65%
11 shots
1.5 seconds
9
800
4.5 seconds
4 seconds
800 dps
195 dps
585 dps
+1.27x
+1.24x
585 dps
70%
11 shots
1.25 seconds
10
1000
4 seconds
3.75 seconds
900 dps
210 dps
630 dps
+1.3x
+1.26x
630 dps
75%
12 shots
1 second
*Time taken to reload her darts.
Mastery upgrades
Chance to Boost
Damage Pierce
Level upgrades 

(China only)
Level
Upgrades
Description

Quick Recuperation
快速休整
Cooldown reduced by 25%

Combat Training
战斗训练
Dartichoke gains 50% more attack power and health (150% of initial).

Rapid Recuperation
急速休整
Cooldown reduced by 50%

Cell Activation
细胞活化
Dartichoke gains another 50% more attack power and health (200% of initial).

Ability Awaken
能力觉醒
Dartichoke may be boosted when planted.

Fighting Power
战斗能力
Dartichoke gains another 50% more attack power and health (250% of initial).

Thunderstorm
雷暴
Dartichoke's normal attack now has a chance to fire a thunderstorm dart.
Thunderstorm darts will prioritize attacking the strongest zombie, damaging all zombies pierced by it.
It also kills all weaker zombies in a 1x1 area.

Fighting Power
战斗能力
Dartichoke gains another 50% more attack power and health (300% of initial).
Strategies
Dartichoke is a very interesting plant to use. At level 1, she is very powerful, being able to defeat a basic zombie in 3 hits. Although she is strong, she has a limited number of darts and needs to recharge, so she should not be the main attacking plant to use in a level. As a support plant, Dartichoke can defeat tougher zombies while other plants defeat weaker zombies. She can be used with Electric Peashooter to defeat tough zombies while the latter can defeat groups of weak zombies. Plants that can slow zombies such as Winter Melon, Cold Snapdragon, and Snow Pea can stall zombies while Dartichoke defeats them effectively.
Piercing plants such as Laser Bean, Cactus, and Bloomerang can damage all zombies in a lane to weaken the zombies Dartichoke can attack or prevent weaker zombies from eating it. This plant works fairly well with shadow plants, especially Dusk Lobber and Shadow Peashooter. These two plants can damage lots of zombies at a time (or slow them in the case of Shadow Peashooter), allowing Dartichoke to do as much damage as possible.
She is also good in Pirate Seas, Lost City, Far Future, Dark Ages, Jurassic Marsh, Big Wave Beach and Modern Day because she can target dangerous zombies that appear in those worlds.
One weakness of Dartichoke is that she can't target zombies that may eat her due to her targeting other zombies. She also needs time to recharge her darts so it is recommended to use defensive plants to protect her.
She is not a good choice in Last Stand levels because she gets overwhelmed by zombies in levels such a Pirate Seas - Day 22.
In Neon Mixtape Tour, she will prioritize Punk Zombie, Glitter Zombie, and Arcade Zombie; but not MC Zom-B, Breakdancer Zombie, or Boombox Zombie.
In Lost City, Excavator Zombies can block Dartichoke's darts and in Dark Ages, Jester Zombies can deflect them.
In Pirate Seas, she can target Imp Cannons but cannot target the Imp Pirate Zombies themselves, allowing them to eat Dartichoke.
Gallery
Plants vs. Zombies Wiki
has a
gallery
for Dartichoke.
In other languages
| Language | Name | Description |
| --- | --- | --- |
| English | Dartichoke | |
| Simplified Chinese | 飞镖洋蓟 | |
| French | Arc-tichaut | |
| German | Dartischocke | |
| Italian | Dardofo | |
| Brazilian Portuguese | Dardochofra | |
| Spanish | Dardachofa | |
Trivia
While Dartichoke is never referred to with gendered pronouns in her in-game almanac entry, she was initially referred to with masculine pronouns in her official reddit reveal post[2], but was later referred to with feminine pronouns in a post[1] written by Stephen Notley, the employee who writes most of the almanac entries in Plants vs. Zombies 2.
Despite her Arena Season coming after Ultomato's, she is before Ultomato in the Almanac.
She and Witch Hazel are the only plants in Plants vs. Zombies 2 to be able to prioritize a specific kind of zombie.
Dartichoke, Jack O' Lantern, and Stickybomb Rice are the only three plants in Plants vs. Zombies 2 to have a sun cost of 225 at Level 1.
She and Ultomato are the only 2 straight-shooting plants that can attack through objects.
Dartichoke got buffed in 8.1.1 update, in which her crit chance was increased and the cooldown period was reduced.
Dartichoke's costume is very similar to one of A.K.E.E.'s costumes.
She heavily resembles a shadow plant.
In the Chinese version, Dartichoke does not prioritize Healer Zombies.
References
See also