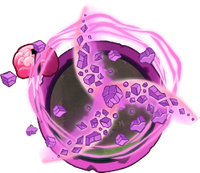 Cut Down to Size is a super-rare zombie superpower trick card in Plants vs. Zombies Heroes and a member of the

Brainy class. It costs 1

to play, and its ability instantly destroys a selected plant with 5

or more.
Origins
Its name is based on the phrase "Cut down to size," which means to lower or decrease someone's importance, self-importance, or confidence.
Its original description is based on an actual idiom, while its current description is a reference to a Russian proverb, "The tallest blade of grass is the first to be cut by the scythe."
Statistics
Class: Brainy
Tribe: Superpower Trick
Ability: Destroy a Plant that has 5 or more.
Rarity: Super-Rare
Card description
"The tallest blade of grass is the first to get cut. Braaainz!" - Ancient Zombie Proverb
Update history
Update 1.2.12
Restricted to Super Brainz and Rustbolt.
Description change: Was originally The bigger they are, the harder they fall.
Set - Rarity change: Basic - Uncommon → Super-Rare
Strategies
With
This card is handy for plants that get too powerful, like Super-Phat Beets, Pea Pod, Soul Patch, Hibernating Beary or Doubled Mint. It can also be used to destroy glass cannons like Carrotillery. This trick should not be used to destroy Grapes of Wrath as you will receive 6 damage, unless you are close to blocking an attack, or you want to clear the way for a powerful zombie.
Keep in mind that Rocket Science has a similar ability, but is much more expensive. However, the standards of its ability are easier to meet due to the threshold being over 4

instead of 5

, not to mention that it can be played more than once due to it being a normal card and not a superpower.
Against
Just like Rocket Science, having two or more threatening plants can force your opponent to decide which plant would threaten them more. It is also good that it can't be played again under normal circumstances, due to it being a superpower.
Gallery
Old
Trivia
Its old description was later used for Shamrocket.
Community content is available under
CC-BY-SA
unless otherwise noted.