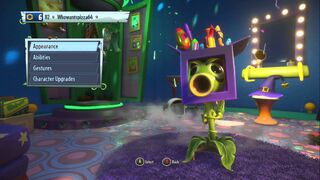 Customization is a feature in Plants vs. Zombies: Garden Warfare, Plants vs. Zombies: Garden Warfare 2, and Plants vs. Zombies: Battle for Neighborville. There are hundreds of customization items that the player can use to customize their characters. They include: Accessories, tattoos, hats and organics for plants, and accessories, weapon skins, hats, tattoos (Garden Warfare 2 only) and facial hair for zombies. Also, there is a facial customization option for Citron.
Use
These "objects" can be put on your head, your hands or even your face to change your character's appearance to other players. They are obtainable from Sticker Packs only and come in four rarity classes: Common, Uncommon, Rare and Super Rare. As far as values go, buying a higher-tier pack will allow access to higher-tier cosmetic items such like: the Super Duper pack (which costs 5.000 coins) cannot yield anything rarer than Rare items and the Supremium pack (which costs 30.000 coins) can yield items of any rarity.
In Plants vs. Zombies: Garden Warfare 2, two new rarity classes are introduced: Special and Legendary. Legendary items are essentially one step above Super Rare items and are thus the rarest items in the game. Special items on the other hand cannot be obtained through normal means and require special methods or tactics to unlock, hence their rarity name.
As of an update, a new variant of cosmetic item called Bling items have been introduced which follow a specific visual appearance rate to determine their value but they obey the same rules as ordinary cosmetic items.
"Value" list (appearance-wise, not rarity-wise) (PvZ: GW)
Silver: These items have a solid Silver hue and have a varying degrees of reflectivity.
Gold: Like Silver items but with a solid Gold hue and being slightly less reflective.
Royal: These are Gold items decorated with gemstones of varying colors applied to various parts of the item in varying quantities.
Diamond: These items have a surface made out of several side-by-side placed diamonds and give off a visible sparkle effect when seen up-close.
In Plants vs. Zombies: Garden Warfare 2, plant and zombie champions spawn with semi-randomized customization items on them. These customization items do not influence their abilities in any way and just like the ones the player can use, are purely cosmetic.
"Value" list (appearance-wise, not rarity-wise) (PvZ: GW2)
Silver: Accessories will appear solid silver.
Gold: Accessories will appear in solid gold.
Scrumptious: Accessories will appear in a rainbow-like color.
Diamond: Accessories will appear solid reflective diamond.
Gem: Accessories will appear in a reflective gem appearance with a different color.
Infinite: Accessories will appear grid-like. Can only be obtained in Infinity Time, Infinity Time related Community Challenges, or from Rux's Bazaar.
Types
Hats: These are cosmetic items that mostly go on top of the characters' heads, like hats in real life.
Accessories: This class involves a wide range or cosmetic items ranging from glasses and eyewear to occasionally teeth replacements (for the Chomper).
Organics (exclusive to Plants): These cosmetic items change the appearance of the "hands" of most plants (and the stem base for the Chomper). They are only usable by the Plants. The Zombie equivalent to this cosmetic class is the Weapon skin class.
Tattoos (exclusive to Plants in the first game): These cosmetic items add decorative patterns to the heads, faces, and peel (for Citron) of the plants. They are only usable by the Plants. The Zombie equivalent to this cosmetic class is the Facial Hair cosmetic class.
Tattoos (Rose): These cosmetic items apply decorative patterns and symbols to Rose's cloak, replacing the default patterns. The Zombie equivalent to this cosmetic class is the Cape Tattoos for Super Brainz.
Cape Tattoos (Super Brainz): These cosmetic items add decorative patterns to the cape of Super Brainz, similar to the Tattoos for Plants (and Zombies). The Plant equivalent to this cosmetic type are the Tattoos for Rose.
Weapon Skins (exclusive to Zombies): These cosmetic items add a decorative color and detail scheme to the weapon that the zombie is holding. They can only be used once all weapon upgrades have been unlocked since the upgrades change the weapons' appearance slightly and the weapon skins are fixed to fit the fully upgraded weapons' 3D models. The Plant equivalent to this cosmetic class is the Organics class.
Facial Hair (exclusive to Zombies and Citron): These cosmetic items come as advertised, they add facial hair to the zombies' heads, usually to the mouth region.
Conflicts and restrictions
Some Cosmetics items (mainly items from the Hats and Accessories classes) occupy multiple equip regions, meaning that they will sometimes deny the player from using cosmetic items from a certain class. However, this restriction can be avoided in some cases by equipping a cosmetic item from the normally restricted class and then equipping the restricting cosmetic item afterwards, allowing the normally unequippable item to be used despite the restriction imposed by one of the cosmetic items. This exploit does not work always, though.
Gestures
Main article: Gesture
Gestures are a separate type of cosmetic items that, like all the above items, do not change gameplay, but allows the player to execute simple gestures as well as taunts at will. They do not change the player's appearance.
PlayStation exclusive hats
PlayStation Exclusive Hats are pre-order incentives provided by PopCap Games when pre-ordering Plants vs. Zombies: Garden Warfare for the PlayStation 3 via PlayStation Store or retailer. They are hat accessories themed after various characters from Sony's PlayStation library, including Sly Cooper and Ratchet & Clank.
Known Hats
Note: Zombies can now be accessorized with tattoos like the plants. Also, all customizations have a silver, gold, diamond or gem variant.
All
Stinky the Snail (Returning hat)
Carousel Top (Hat)
A purple hairstyle (Hat)
Knitted Nightmare (Hat)*
Astro Pea (Hat)
Knight helmet (Hat)
Anime Hair (Hat)*
Pea Punk (Hat)*
Green Shadow (Heroes Hat)
Boom Box (Legendary Hat)
A Mardi Gras mask named Master Mask (Accessory)
Googly Eyes (Accessory)
eEyeroll (Accessory)
A new pair of goggles/glasses (Accessory)
Flower Lashes (Accessory)
Fuzzy Frames (Accessory)
Boxing gloves (Organic)
Large cyan crystals (Organic)
Drake Flappers (Organic)
#1 Pea Fan (Organic)
Doll Face (Tattoo)
What's on the Ground? (Gesture)
Too Cool (Gesture)
Break it Down (Gesture)
Assorted Flavor Spikes (hat)
Breakfast Head (Hat)
Spudow (Heroes Hat)
Rocket Turtle (Legendary hat)
eStare (Accessory)
Cracked Rock (Accessory)
Red lips (Accessory)
Sing Along (Gesture)
Chewy (Gesture)
Chomp Shake Down (Gesture)
Three cats (hat)
Wizard (Returning hat)
Giga-Rabbit (Hat)
Frankenflower (Hat)
Lord Cinderbottom's Nephew (Legendary hat)
eGrin (Accessory)
Sunny Goggles (Accessory)
Sunocle (Accessory)
Ruffled FeathersWhite fuzzy eyebrows (Accessory)
Donut hands (Organics)
Honey Drippers (Organics)
Frozen Coffee (Organics)
Roasted Marshmallows (Organics)
Ms. Moneybags (Organics)
Makeup (Tattoo)
Berry Face (Tattoo)
Jump Thumpity Thump (Gesture)
Perfect Zen (Gesture)
Scare the Dirt (Gesture)
Spin Dance (Gesture)
Directional Movement (Gesture)
Chimney Head (Hat)
A pink cowboy hat (Hat)
Headress of the Ancients (Hat)
Double Bird House (Hat)
Grass Knuckles (Heroes Hat)
Blur Bug (Legendary hat)
Pink glasses (Accessory)
elndifferent (Accessory)
Neon Signage (Organic)
Merl and Earl (Organic)
Flamingo Familiar (Organic)
Brick Hands (Organic)
Morning Stretch (Gesture)
One Two Twirl (Gesture)
eKissy (Accessory)
Eternal Dragon Wrap (Hat)+
Nightcap (Heroes Hat)
Koala of Darkness (Legendary Hat)
Crazy Spiral (Tattoo)
Butterfly Mask (Accessory)
Lilly Topper (Hat)
Thoughtful Wave (Gesture)
Rhythmic Flotation (Gesture)
Keep it Classy (Gesture)
Flames of Fortune (Hat)
A viking helmet (Hat)
A golden fish (Hat)
Long Haulin' (Hat)
Police hat (Hat)
A tin can (Hat)
A tall Victorian popcorn wig (Hat)
Cuckoo Clock (Legendary Hat)
Gray glasses (Accessory)
Cornish Shutters (Accessory)
eShades (Accessory)
King of Beards (Organic)
A brown collar (organic)
Green bush (Organic)
Large purple curls (Organic)
Soggy Cereal (Organic)
Glowsticks (Organic)
Rocket neck (Organic)
Peel Neck (Organic)
Striped Propeller (Organic)
Lawful (Hat)
Negatory (Gesture)
Spinners (Gesture)
Husk Hop Rock (Gesture)
Cobs Blazing (Gesture)
Cobbed n' Ready (Gesture)
Undesirable Clown (Tattoo)
Running Makeup (Tattoo)*
An apple tree (Hat)
Wall-Knight (Heroes Hat)
eVision Orange(Accessory)
Blinking Patch (Accessory)
Bushy Hair (Hat)
Colonel Citron (Facial Hair)
Identification Zero (Facial Hair)
Thick and Lawful (Facial Hair)
Nice Art (Citron Ball Tattoo)
Neapolitan (Frozen Citron Ball Tattoo)
Peel Shake (Gesture)
Quad Shift (Gesture)
Pumped Up (Gesture)
RGB Cats! (Legendary hat)
Serene Cinnamon Roll (Legendary hat)
War Burger (Returning hat)
Orange hair with ponytails (Hat)
Rustbolt (Heroes Hat)
Epic Bat-a-tronic (Legendary hat)
Baby Bot (Accessory)
Skeleton face paint (Tattoo)
Abstract (Tattoo)
eFrown (Accessory)
Swirly Solute (Gesture)
Head Conker (Gesture)
Master Blaster (Gesture)
Everlasting crown (Hat)
Gnomish Perspective (Legendary Hat)
You Got Mail (Legendary Hat)
Red Ramming Hood (Returning Hat)
Shuttlecock Shades (Accessory)
Bird Brain (Hat)
Pop Smarts! (Legendary hat)
eGrimace (Accessory)
Zombie Shuttle (Returning Hat)
Bride of Frankenstein hair (Hat)
Professor Brainstorm (Heroes Hat)
Orbital Cube (Legendary hat)
eGoggles (Accessory)
Purple face paint (Accessory)
Purple goggles (Accessory)
Zomboss Vision (Accessory)
Holo Zomb-i (Accessory)
Lightbulb Pigtails (Hat)
Cell Splash (Accessory)
eEngineer (Accessory)
Cerebrick (Hat)
Hood of Silence (Hat)
Critter Curls (Hat)
Immorticia (Heroes Hat)
Epic Dillo Derby (Legendary hat)
Caution Tape (Tattoo)
Swirly Bee (Tattoo)
Unibrow (Tattoo)
Lucious Lips (Facial Hair)
Orthodontist's Dream (Facial Hair)
Personal Spotlight (Facial Hair)
Vacuum Bot (Hat)
Retro Brainz (Hat)
Cyber Brainz (Hat)
A knight helmet (Hat)
The Smash (Heroes Hat)
Sidekick Kitty (Legendary hat)
Curly Eyebrows (Accessory)*
eHero (Accessory)
Sound Barrier (Accessory)
Beard of Superiority (Facial Hair)
Sinister Beard (Facial Hair)
Do You Hear It? (Gesture)
All-in-One (Gesture)
Flex of Fortitude (Gesture)
Pointed Pointer (Gesture)
Projecto Brainz (Hat)+
A purple pirate hat with red dots (Hat)
Captain Crab (Hat)*
ePirate (Hat)
Neptuna (Heroes Hat)
Bling Shark (Legendary hat)
Octobeard (Facial Hair)*
Cannon Surprise (Accessory)
Pretty Pirate (Tattoo)
Radioactive (Tattoo)
Future Shark (Weapon Skin, Captain Sharkbite only)
Ornate Shark (weapon skin)
Robotic Flamingo (Legendary Hat)
Ponytail (Hat)
Epic Disco Bot (Legendary Hat)
Fake Stache (Facial Hair)
Neck Beard (Facial Hair)
eHappy (Accessory)
High Five! (Tattoo)
Eugene (Facial Hair)
Viper Pilot (Accessory)
*Customization item has gold and silver variants
+This hat is only unlocked after completing all missions
~Customization item is unlocked for all classes
Gallery
Community content is available under
CC-BY-SA
unless otherwise noted.