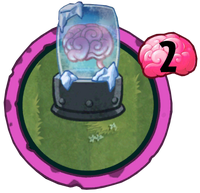 Cryo-Brain is a galactic uncommon zombie trick card in Plants vs. Zombies Heroes and a member of the

Brainy class. It costs 2

to play, and its ability gives the zombie hero +1

for the rest of the game, starting from the next turn after it is played. Its closest plant counterpart is Sunburn.
Origins
Its description is a reference to the fact that people put food in cold storages or fridges to keep them fresh.
Statistics
Class: Brainy
Tribe: Gourmet Science Trick
Ability: You get +1 for the rest of the game.
Set - Rarity: Galactic - Uncommon
Card description
Putting brains on ice is the best way to keep them fresh. Ask any Zombie.
Update history
Update 1.16.10
Added to the game.
Name change: Cryo Brain → Cryo-Brain

▼

Ability change: No longer refunds its brain cost. Extra brain ability only takes effect from the next turn onwards.
Update 1.22.12
Strategies
With
Cryo-Brain is a reliable ramp card that can give you an edge until the end of the match. But since it cannot harm the opposing side in any way, your opponent is free to play anything. While Cryo-Brain is worth giving up a bit of your defenses, it may be better to play different cards that turn instead if your opponent chooses to set up in any way.
Each Gentleman Zombie on the field gives you two brains that basically negate the cost of Cryo-Brain, making it so that you do not have to give up on other vital cards or save up for playing Cryo-Brain. This strategy is also available starting from the early game, making it competitively viable too. However, be sure to keep Gentleman Zombie alive to execute this strategy.
This card isn't as useful in the very late game, however, as you will have enough brains to play the necessary cards for your strategy anyway.
Since it is a science card, it synergizes very perfectly with Interdimensional Zombie, as you will get a free zombie from him.
Against
There is no real counter to this card (anti-trick cards are the closest there are to them), and the best you can do is to give your opponent no opportunity to ramp their brains by pressuring them with strong plants or big rushes. If you are using a ramp deck, you could try ramping yourself to catch up with your opponent. But either way, defeat your opponent quickly before they make enough brains to overwhelm you with strong cards.
You can also play Sunburn or sun-producing plants like Sunflower to ramp the amount of sun you made this turn if Cryo-Brain is played. However, the latter is only restricted to Solar Flare unless you get lucky with Bird of Paradise.
Gallery
Old
In other languages
| Language | Name | Description |
| --- | --- | --- |
| English | Cryo-Brain | |
| Simplified Chinese | 冰冻大脑 | |
| Traditional Chinese | 冰凍腦袋 | |
| French | Cryo-cortex | |
| German | Schockfrost-Hirn | |
| Italian | Crio-cervello | |
| Japanese | 冷凍ブレイン | |
| Korean | 극저온 뇌 | |
| Brazilian Portuguese | Criomiolos | |
| Russian | Криомозг | |
| Spanish | Criocerebro | |