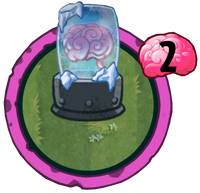 Cryo-Brain is a galactic uncommon zombie trick card in Plants vs. Zombies Heroes, and a member of the

Brainy class. It costs 2

to play, and its ability gives the zombie hero +1

for the rest of the game, starting from the next turn after it is played.
Statistics
Class: Brainy
Tribe: Gourmet Science Trick
Ability: You get +1 for the rest of the game.
Set - Rarity: Galactic - Uncommon
Card description
"Putting brains on ice is the best way to keep them fresh. Ask any Zombie.
Update history
Update 1.16.10
Update 1.22.12
▲

Tribe change: Gourmet Trick → Gourmet Science Trick
Strategies
With
This card can turn the tides of battle in your favor as you can earn additional brains, allowing you to play strong zombies and tricks earlier than usual. It acts similarly to Sunburn, but the differences are that it costs 2

, doesn't do damage and can be used multiple times in a deck. If you plan to play this card, it is recommended to watch out for any sneaky or dangerous plays from the plant hero before you do so, as it may be better to use different tricks that turn depending on their play. Otherwise, it is always a good option to play if you have at least 2

left over. And the best part is that the more you play this card, the faster you can ramp up quickly and play expensive cards very early. Keeping a Gentleman Zombie in play can help as he gives you two brains that turn to negate the cost of the card, counting it as a free card, allowing you to ramp up without concerning to save up for one, but you must be able to protect it if you want to play more Cryo-Brains next turn.
This card isn't as useful in the very late game as the zombie hero can have enough brains to play the necessary cards for your strategy.
Against
There is no counter to this card and the best you can do is to make the zombie hero think harder by playing stronger plants. You can try to fight back by using more sun-producing plants, but beware, as your opponent may have zombies or tricks to remove them.
However, if you are not a

Solar hero, your only option is to try and be able to defeat the zombie hero as early as possible before the zombie hero plays tougher zombies in the early game. Since this card is in the Brainy class, the zombie hero could conserve additional brains for tricks, so you might need to resort to Brainana, Forget-Me-Nuts or Dark Matter Dragonfruit to prevent or hinder them from playing any cards in the "Zombie Tricks" phase.
Gallery
Old
Trivia
It is the second trick that is capable of giving the player additional suns/brains for the rest of the game, along with Sunburn.
Its description refers to the fact that people put food in cold storages or fridges to keep them fresh.
Despite the fact that this card is a brain in a freezer, Brain Freeze cannot normally use it.