No Man's Sky Update - The Loop
Play Sound
Cro-Magnolia is a colossal rare plant card in Plants vs. Zombies Heroes and a member of the 

Kabloom class. It costs 3

to play and has 2

/4

.
It does not have any traits, and its Plant Evolution ability gives all plants on its lane and the lanes adjacent to it, including it, +2

.
Origins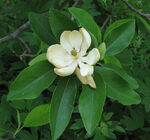 Just like Steel Magnolia, it is based on the magnolia, a type of flower. Its petals also appear to be based on fossilized ferns, members of a group of vascular plants (plants with xylem and phloem) that reproduce via spores and have neither seeds nor flowers.
Its name is a portmanteau of "Cro-Magnon," a word used to describe the first early modern humans (early Homo sapiens sapiens) that lived in the European Upper Paleolithic, referring to its appearance and it being a Colossal Fossils card, and "magnolia," the real-life plant it is based on.
Its description is an allusion to its gentler face expression compared to Steel Magnolia, as well as the fossil patterns on its petals.
Statistics
Class: Kabloom
Tribe: Flower Plant
Traits: None
Ability: Plant Evolution: Plants here and next door get +2.
Set - Rarity: Colossal - Rare
Card description
In the secret groves of Hollow Earth, Magnolias evolved to shun steely stoicism, boasting blunt barbarity.
Update history
Update 1.22.12
Strategies
With
Cro-Magnolia, like most Evolution plants, is best used when played on another plant. It is best to play Cro-Magnolia when there is at least one vital plant on either side of the plant that is going to Evolve. If you successfully Evolve it, Cro-Magnolia becomes a 4

/4

with a great ability. Otherwise, it is just a plant with average stats.
Each hero can use this card effectively:
Against
A 4

/4

plant that also boosts other plants for only 3

is a very dangerous one to be on the field. However, it does have a weakness, which is Rocket Science. If Cro-Magnolia is played a bit later, Screen Door Zombie can nullify Cro-Magnolia's attack and destroy it. But either way, you still have the boosted plants to deal with. Since the plants will be boosted en masse, prioritize the most threatening plant.
Like most Evolution cards, you cannot do much against its ability, but you can try to remove as many plants as possible so Cro-Magnolia cannot activate it.
Gallery
Old
In other languages
| Language | Name | Description |
| --- | --- | --- |
| English | Cro-Magnolia | |
| Simplified Chinese | 石器木兰 | "Stone Tool Magnolia" |
| Traditional Chinese | 克魯木蘭 | "Cro Magnolia" |
Trivia
The pattern on its petals resemble plant fossils.
See also