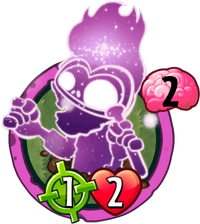 For other uses, see Scientist (disambiguation).
Cosmic Scientist is a galactic rare zombie card in Plants vs. Zombies Heroes and a member of the

Brainy class. He costs 2

to play and has 1

/2

. He has the

Bullseye trait, and his ability Conjures a science card when he is played and gives it the

Bullseye trait if it is not a trick or environment card, excluding Zombot's Wrath and Final Mission.
Origins
His appearance is based on Mad Chemist.
His name is a combination of "cosmic" and "scientist," referring to his appearance.
Statistics
Class: Brainy
Tribe: Science Zombie
Trait: Bullseye
Ability: When played: Conjure a Science card, and it gets Bullseye.
Set - Rarity: Galactic - Rare
Card description
He has no idea what's in the beakers. He just likes to mix them together until they go BOOM!
Update history
Update 1.16.10
Strategies
With
While this zombie has slightly below average stats, his ability is truly what makes him shine. Any zombie he Conjures gains the

Bullseye trait, allowing it to do damage to the plant hero without charging the Super-Block Meter.
Due to the many cards in the science tribe, there are many different types of zombies that can be Conjured by him. A few examples of incredibly devastating zombies with

Bullseye are Zombot Plank Walker and Zombot 1000.
However, there is quite a high chance that Cosmic Scientist will Conjure a trick or environment, thus rendering the additional ability of giving the zombie

Bullseye utterly useless. He may also Conjure zombies that already have the

Bullseye trait such as Wormhole Gatekeeper. However, this does not mean the card Conjured will be useless, as he can Conjure useful tricks and environments like Laser Base Alpha, Area 22, and Rocket Science. There are also trick cards that are affected by his ability, such as Zombot's Wrath or Final Mission.
Bouncing this zombie with Firefighter or Secret Agent will allow this zombie to Conjure another science card. If you are Huge-Gigantacus or Super Brainz, you can also play Mixed-Up Gravedigger to reuse his ability.
Since this is a science zombie, it can get boosted by Zombot Drone Engineer, and activate Interdimensional Zombie's ability.
Against
You can not stop this zombie's ability, but destroying this zombie will not be a problem as it only has 2 health and can be easily taken out with tricks like Berry Blast or Whack-a-Zombie.
Do not Bounce this unless necessary or it can ensure your win, as the zombie hero can replay this to Conjure another Science card.
You can also Bounce the zombie that has been Conjured by him to remove the

Bullseye trait from them, but beware of zombies with "When played" abilities such as Gadget Scientist and Zombot 1000.
Gallery
In other languages
Language
Name
Description
English
Cosmic Scientist
Simplified Chinese

宇宙科学家

Traditional Chinese

宇宙科學家

French
Scientifique cosmique
German
Kosmos-Wissenschaftler
Italian
Scienziato cosmico
Japanese

コスミック科学者

Korean

우주 과학자

Brazilian Portuguese
Cientista Cósmico
Russian

Космический ученый

Spanish
Científico cósmico