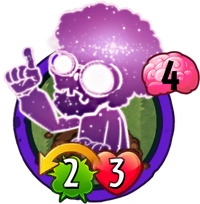 Cosmic Dancer is a galactic rare zombie card in Plants vs. Zombies Heroes and a member of the

Crazy class. It costs 4

to play and has 2

/3

. It has the

Overshoot 2 trait, and its ability Conjures a dancing card when it is played, and gives it the

Overshoot 2 trait if it is not a trick card.
Origins
Its appearance is based on Disco Zombie.
Its name is a combination of "cosmic" and "dancer," referring to its appearance.
Statistics
Class: Crazy
Tribe: Dancing Zombie
Trait: Overshoot 2
Ability: When played: Conjure a Dancing card, and it gets Overshoot 2.
Set - Rarity: Galactic - Rare
Card description
Across the cosmos, the passion for dance is the only universal language.
Update history
Update 1.16.10
Strategies
With
Despite having low stats for 4

, Cosmic Dancer has the

Overshoot trait in addition to being able to Conjure a dancing card with a bonus. Since Cosmic Dancer is a dancing zombie, it will benefit from Aerobics Instructor, who will increase its strength, and can also benefit Flamenco Zombie if you keep Cosmic Dancer alive. Disco-Naut will give Cosmic Dancer the

Bullseye trait, which will go in tandem with its

Overshoot trait. Binary Stars will also double the damage that is dealt by both its normal attack and the attack from its

Overshoot trait.
If you are Impfinity, you can use In-Crypted, Mixed-Up Gravedigger, and Firefighter to reactivate Cosmic Dancer's ability. Electric Boogaloo can also do so with Secret Agent.
Against
While you cannot stop it from Conjuring the extra dancing card, you can prevent it from attacking. Since it only has 2

, you can destroy it with Whack-a-Zombie. With 3

, it can also be taken out with Berry Blast. However, be careful of the dancing card it Conjures as it can be dangerous, especially with the added

Overshoot trait.
Unless you can win this turn or it is necessary, do not Bounce it, as the zombie hero can reactivate its ability. Also, do not bother reducing its strength to 0, as its

Overshoot trait will still damage you.
Gallery
In other languages
Language
Name
Description
English
Cosmic Dancer
Simplified Chinese

宇宙舞者

Traditional Chinese

宇宙舞者

French
Astro-danseur
German
Kosmos-Tänzer
Italian
Ballerino cosmico
Japanese

コスミックダンサー

Korean

우주 댄서

Brazilian Portuguese
Dançarino Cósmico
Russian

Космический танцор

Spanish
Bailarín cósmico