Fire Emblem Warriors: Three Hopes - The Loop
Play Sound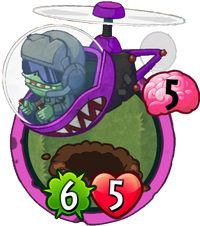 Copter Commando is a colossal uncommon zombie card in Plants vs. Zombies Heroes, and a member of the

Brainy class. It can also be made by Hail-a-Copter. It costs 5

to play, and has 6

/5

. It does not have any traits or abilities. Its closest plant counterpart is Smashing Pumpkin.
Origins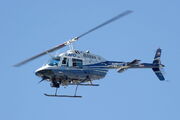 Its description makes a reference to how Copter Commando does not have the Amphibious trait despite being a helicopter that can fly over water, as aquaphobia is a type of phobia that involves persistent and abnormal fear of water.
Statistics
Class: Brainy
Tribes: Science Imp Zombie
Traits: None
Abilities: None
Set - Rarity: Colossal - Uncommon
Card description
Refuses to fly over water due to a severe case of aquaphobia.
Update history
Update 1.2.11
▼

Health change: 6 → 5
Update 1.10.14
Update 1.22.12
Set - Rarity change: Token → Colossal - Uncommon

▲

Brain cost change: 6 → 5
Strategies
With
This zombie is very powerful, with 6

/5

, and can be played in the Zombie Tricks phase via Hail-a-Copter. That way, you can choose which lane you want to play it in without worrying about what your opponent can do for that turn. But otherwise, it is just a zombie with average stats and no abilities.
Being in the science tribe, Copter Commando can also benefit from Zombot Drone Engineer and Gadget Scientist, as well as activate Interdimensional Zombie's ability, making it even more effective. It can also benefit from Toxic Waste Imp and Imp Commander as it is also a part of the Imp tribe, but these combos are only normally possible with Super Brainz or Huge-Gigantacus, and won't matter that much due to his already high strength to kill plants, and card draw being irrelevant by turn 5.
Against
This zombie is really powerful due to being normally played in the Zombie Tricks phase, and you have to be careful when your opponent saves more than 5

in the Zombies Play phase. Cards like Squash and Sizzle can destroy it easily. You can also Bounce this zombie, so whenever your opponent wants to play this card again, they will be forced to play it in the Zombies Play phase, where it is more susceptible. If you can predict Hail-a-Copter being played, use Brainana, Dark Matter Dragonfruit, or even Forget-Me-Nuts to prevent it from being played. You can also use Shamrocket to destroy this zombie instantly. If you choose to use damaging plants alone, destroy any Toxic Waste Imps before you try.
Gallery
Plants vs. Zombies Wiki
has a
gallery
for Copter Commando.
In other languages
| Language | Name | Description |
| --- | --- | --- |
| English | Copter Commando | |
| Simplified Chinese | 直升机敢死队 | |
| Traditional Chinese | 直升機突擊隊 | |
| French | Commando héliporté | |
| German | Heli-Kommando | |
| Italian | Commando elicottero | |
| Japanese | コプターコマンドー | English name transliterated into Japanese |
| Korean | 헬리콥터 특공대 | |
| Brazilian Portuguese | Comandocóptero | |
| Russian | Беспилотник | |
| Spanish | Comando de helicópteros | |
Trivia
Hail-a-Copter shares the same card description.
When it is hurt or destroyed, the word "Achtung" is shown on the windscreen, which means "Danger" in German. This appears regardless of the language the player is playing this game as.

Ironically, this is facing the player, so this would be hard for the Imp to read, though it could be used to warn others near the vicinity of the helicopter.
Also, when it is destroyed, the Imp says "Uh oh" before the helicopter explodes.

When it does an Overshoot attack, it will play its "When hurt" animation.
See also