For other uses, see Conehead Zombie (disambiguation).


Conehead Zombies are zombies with roadcones on their head for protection. While they are relatively easy to defeat, they are slightly more difficult to kill than both the Flag Zombie and the ordinary Zombie. They have somewhat normal health, but they can only be directly hurt once the roadcone on their head takes enough damage and falls off.
Overview
Conehead Zombie first appears in Level 1-3. It is the third zombie the player encounters, after the ordinary Zombie and the Flag Zombie.
The Conehead Zombie absorbs 640 damage per shot, and his appearance changes upon absorbing 130, 260 and 370 damage per shot when his roadcone is destroyed, and 505 damage per shot before dying at 640 damage per shot.
Suburban Almanac entry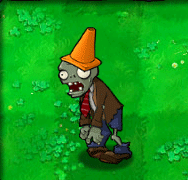 Conehead Zombie
His traffic cone headpiece makes him
twice as tough as normal zombies.
Toughness: medium
Conehead Zombie shuffled mindlessly
forward like every other zombie. But
something made him stop, made him pick up
a traffic cone and stick it on his head.
Oh yeah. He likes to party.
 (China only)  (Archived content)
竹篓僵尸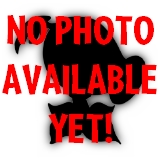 他的竹篓头盔使他更能经受来自植物的打击
强度: 中等

竹篓僵尸是个持家的好父亲,他最大的爱好就是追着别人询问哪里可以买到特价的脑子。
In English:

Bamboo Baskethead Zombie

His bamboo basket helmet allows him to take more damage from plants
Toughness: medium
Bamboo Baskethead Zombie is a good father who lives a thrifty lifestyle, his favorite activity is chasing behind others asking where brains are on sale.
Encounters
Plants vs. Zombies
Strategies
Even though he takes more hits than the regular Zombie, the zombie is not at all difficult to stop. A Snow Pea, two Peashooters, or a Repeater can take him down easily. He is weak to almost all strategies, so your basic setup should take him out. However, do not underestimate him, as he can be a threat in the early levels and the beginning of the game where you do not have access to many powerful plants. A single Peashooter can be sufficient to kill one if the Conehead Zombie is far enough away, but two or three work better, especially if there are multiple zombies that need to be killed.
After the normal Zombie is replaced by the Imp, use this zombie for the lanes you want a small amount of damage absorption. Their roadcones are not affected by the Magnet-shroom, so use them to take out the Magnet-shroom if it is not well defended. However, be careful not to send them to a highly defended lane. For puzzles involving Scaredy-shrooms, time Conehead placement and location, so the most Scaredy-shrooms in a lane are hiding, allowing Coneheads to walk down the row with no or minimal harm.
Gallery
Plants vs. Zombies Wiki
has a
gallery
for Conehead Zombie.
In other languages
Language
Name
Description
English
Conehead Zombie
Simplified Chinese

路障僵尸




竹篓僵尸

in Plants vs. Zombies: Great Wall Edition
Traditional Chinese

路障殭屍

French
Zombie cône
German
Pylonen-Zombie
Italian
Zombi segnaletico
Japanese

コーンヘッドゾンビ

Spanish
Zombi caracono
Trivia
In the Suburban Almanac, it is stated that a Conehead Zombie is twice as tough as a normal Zombie, but in fact he is 2.37x as tough as one.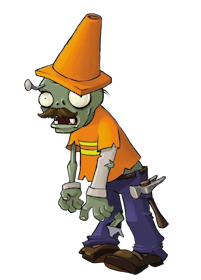 As seen in the concept design for the Conehead Zombie posted on the Plants vs. Zombies Facebook page, the Conehead Zombie, instead of just being a normal zombie with a traffic cone on his head, would've worn what appears to be a construction uniform. He also would've had a mustache.
Conehead Zombie is the third most frequently occurring zombie (other than regular Zombies and the Flag Zombie).
Some of the Game of the Year edition packs come with a punch-out cardboard cone that can be placed on the head of the zombie figurine. This cone will require minimal construction first, possibly with the aid of tape.
Conehead Zombie, Buckethead Zombie, Screen Door Zombie and Trash Can Zombie are the only zombies that can degrade into a normal Zombie.
If Plants vs. Zombies: Game of the Year Edition was purchased on Steam before May 5, 2011, players from Team Fortress 2 will be awarded with a Dead Cone, a promotional cosmetic item for the Pyro that resembles the Conehead Zombie's cone.
In anything Wall-nut Bowling-related and Whack a Zombie, it takes two hits for a Conehead Zombie to die.
Conehead Zombie, along with two normal Zombies, appears on the loading screen.
Conehead Zombie is the first zombie to have some sort of armor.

He is also the first headwear zombie encountered in the game.

Conehead Zombie is one of the most frequent zombies in Survival: Endless.
​See also