This subject currently has no proper strategy associated with it. If you have figured out a good strategy, please
add it
or the zombies will eat your brains!

This article is under construction and requires more content. You can help our wiki by
expanding it
.
For more information about the character that this line is based on, see Coffee Bean.
The Coffee line (咖啡系; pinyin: dú yǐng xì) was a Class S

Brave plant line in Plants vs. Zombies: All Stars which was introduced alongside Jam Hsiao.
The line consisted of Coffee Bean (咖啡豆; pinyin: kāfēidòu), Latte Bean (拿铁咖啡豆; pinyin: nátiěkāfēi dòu), and Mocha Bean (摩卡咖啡豆; pinyin: mókǎ kāfēidòu). They all increased damage and speed of their team and attacked by spitting coffee beans.
Origins

All members of the Coffee line were based on the real coffee bean fruit from the coffee tree, Coffea arabica.
The first tier, Coffee Bean, was based on the plant with the same name from ''Plants vs. Zombies'', although it resembled the design in the Chinese version of Plants vs. Zombies 2.
The second and third tiers, Latte Bean and Mocha Bean respectively, were named after types of coffee beverages, Caffe latte and Caffè mocha respectively.
Almanac entry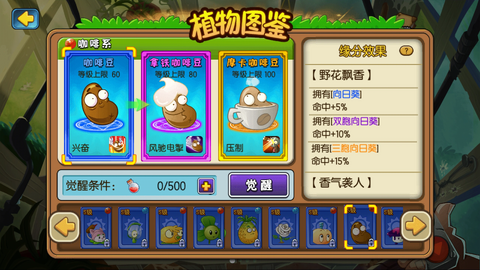 Ways to obtain
Coffee line puzzle pieces could be obtained by replaying Far Future - Day 23, and additional puzzle pieces could be obtained through Soulmates Puzzle system.
Abilities
Abilities were unlocked by tiering up, while their effect was increased through star leveling.
Note: 10(+5)% means that at LV1 this ability had a 10% on LV1, 15% on LV2 and so on.
Tier
Effect
Description
1

Excitement
[Active]
Increases the attack of all plants by 280(+280) and their speed for 2 turns.
2

Speed Up
[Passive]
Gains 50(+50) speed.
3

Ain't Catching Me!
[Passive]
Deals 145(+145) more damage if its speed is higher than that of the target.
Star leveling
After unlocking the Coffee line, additional puzzle pieces could be used to upgrade it, which increased its stats and ability LVs.
Stars
Puzzle Pieces& required
Upgrade
Coins
Stars
Puzzle Pieces& required
Upgrade
Coins
1
0
+298
0k
1
40
+159
100k
2
2
+99
1k
2
40
+881
121k
3
4
Crit+104
4k
3
50
Crit+341
144k
4
8
+117
9k
4
50
+919
169k
5
15
+482

AbilityLv2

16k
5
60
+175

AbilityLv4

196k
1
15
+420
25k
1
60
+1004
225k
2
20
+124
36k
2
70
+191
256k
3
20
Crit+223
49k
3
70
Crit+460
289k
4
30
+688
64k
4
80
+189
324k
5
30
+135

AbilityLv3

81k
5
80
+239

AbilityLv5

361k
Soulmates
Coffee line stats would be increased if these specific plants were unlocked.
Gallery
General
Coffee Bean
Old
Latte Bean
Mocha Bean
Trivia
Community content is available under
CC-BY-SA
unless otherwise noted.