For more information about the plant that this line was based on, see Citron.
The Citron line (柚子系; pinyin: yòuzi xì) was a Class S

Brave plant line in Plants vs. Zombies: All Stars. It was added in the v1.0.88 update, being released alongside Far Future, the Peach line, and the Energy Bean line.
The line consisted of Small Kumquat (小金桔; pinyin: xiǎo jīn jí), Citron (充能柚子; pinyin: chōng néng yòuzi), and Super Citron (超能柚子; pinyin: chāo néng yòuzi). They all attacked zombies by firing plasma balls at them and specialized in dealing with mechs.
Origins
All members of the Citron line were based on various members of the Citrus genus.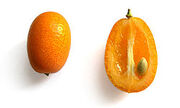 The first tier, Small Kumquat, is based on the Kumquat, a tiny, oblong-shaped citrus fruit native to South Asia and the Asia-Pacific region known for its sour juice and sweet-tasting peel.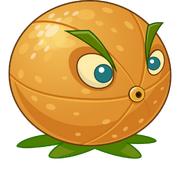 The second tier, Citron, is based on the plant from Plants vs. Zombies 2 of the same name and appearance.
The final tier, Super Citron, is based on the regular Citron as well as the Grapefruit, a hybrid citrus between a sweet orange and pomelo, known for its extreme sourness and ability to burn fat.
The line's addition in the Far Future update of Plants vs. Zombies: All Stars is a reference to the original Citron being an unlockable plant in Plants vs. Zombies 2's Far Future.
Almanac entry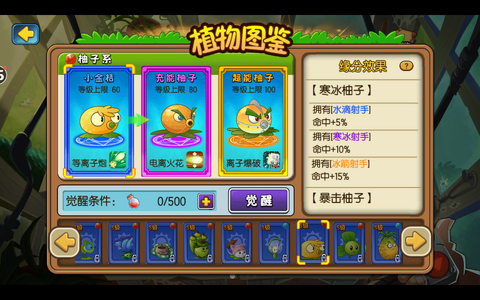 Abilities
Abilities were unlocked by tiering up, while their effect was increased through star leveling.
Note: 10(+5)% means that at LV1 this ability has a 10% on LV1, 15% on LV2 and so on.
Tier
Effect
Description
1

Plasma Cannon
[Active]
Deals damage to all enemies in its lane.
Additional damage 418(+418).
2

Ionic Spark
[Passive]
Plasma Cannon also deals damage to two closest enemies in lanes above and below.
Additional damage 74(+74).
3

Photonic Blast
[Passive]
Chance of a critical attack increases by 30(+5)% each turn, until it strikes.
Critical hits deal double damage to mechs.
Star leveling
After unlocking the Citron line, additional puzzle pieces could be used to upgrade it, which increased its stats and ability LVs.
Stars
Puzzle Pieces& required
Upgrade
Coins
Stars
Puzzle Pieces& required
Upgrade
Coins
1
0
+298
0k
1
40
+159
100k
2
2
+99
1k
2
40
+881
121k
3
4
Crit+104
4k
3
50
Crit+341
144k
4
8
+117
9k
4
50
+919
169k
5
15
+482

AbilityLv2

16k
5
60
+175

AbilityLv4

196k
1
15
+420
25k
1
60
+1004
225k
2
20
+124
36k
2
70
+191
256k
3
20
Crit+223
49k
3
70
Crit+460
289k
4
30
+688
64k
4
80
+189
324k
5
30
+135

AbilityLv3

81k
5
80
+239

AbilityLv5

361k
Soulmates
Citron line stats will be increased if these specific plants are unlocked.
Gallery
General
Small Kumquat
Citron
Super Citron