watch 02:23
Wiki Targeted (Games)
Play Sound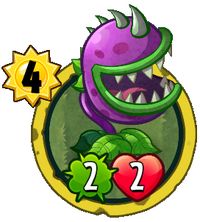 For other versions, see Chomper (disambiguation).
Chomper is a premium super-rare plant card in Plants vs. Zombies Heroes, and a member of the

Solar class. It costs 4

to play, and has 2

/1

. It does not have any traits, and its ability instantly destroys a zombie with 3

or less on its lane when it is played.
Origins
It is based on the plant from Plants vs. Zombies with the same name.
Statistics
Class: Solar
Tribe: Flytrap Plant
Traits: None
Ability: When played: Destroy a Zombie here with 3 or less.
Set - Rarity: Premium - Super-Rare
Card description
"A free buffet? How kind! Don't mind if I do!"
Strategies
With
Chomper is useful for instantly clearing weaker but nonetheless dangerous zombies such as Template:PvZHLink and Team Mascot. However, its low stats make it bad for combat, so boosting tricks are not really recommended. In fact, it is just like Template:PvZHLink that costs 1 more sun and can actually fight.
But because of that, this allows Chomper to remove most zombies up to turn 4, should they not be boosted by the likes of Vitamin Z. The only exceptions to this rule up to this point (by default) are Firefighter, Template:PvZHLink, and Cuckoo Zombie. As Chompzilla, you can use Fertilize to get the most out of Chomper, as it can easily get you at least 5 damage off with nothing to specifically to stop you immediately apart from some cards. You can Bounce it with Rescue Radish to replay this if you are playing as Template:PvZHLink.
Tricks and superpowers which can lower the strength of zombies can be used as a combo with Chomper, such as Water Balloons and Weed Whack.
However, Chomper's usefulness diminishes quickly in the late-game, when there are many powerful zombies that Chomper cannot handle, like Template:PvZHLink or Knight of the Living Dead. Therefore, you should play it as soon as you see a weaker threat. Chomper also cannot destroy a zombie on an aquatic lane, so using this against Amphibious zombies is a bad idea.
Against
There is no real counter to Chomper's ability aside from having zombies with 4 or more strength. Set up a backup plan in case it destroys one of your key zombies. The good thing, however, is that Chomper is terrible at combat due to its low stats, so after its ability activates, you can destroy it easily.
Gallery
Old
Trivia
Originally, it was a Mega-Grow plant, but was changed to a Solar plant for unknown reasons.

It is probably due to the fact that the Solar class specializes in instant-kill cards, while the Mega-Grow class does not.

It has the lowest base stats of all Super-Rare cards in the game.