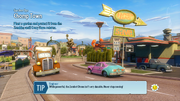 Chomp Town is a map in Plants vs. Zombies: Garden Warfare that was added in the Garden Variety DLC. This map is the main hub of the Garden Variety Pack. It is extended, has a seafood restaurant, ice cream shop, a gas station, and a hotel.
Game modes in which it appears
Gallery
Trivia
There appears to be a billboard featuring a human Imp in a beach.
The tomato on the 'Viva Las Veggies' building has Sunflower's face as well as two carrots next to it.
It was the first map to get added to Plants vs Zombies: Garden Warfare via DLC.
There is a billboard on this map that reads "Pants vs. Blondies" and shows exactly that on the billboard, which is a play on the title of the original game.